Exclusive
EXCLUSIVE PHOTO & DETAILS: Resident With Ronni Chasen Crash Video Details Murder Scene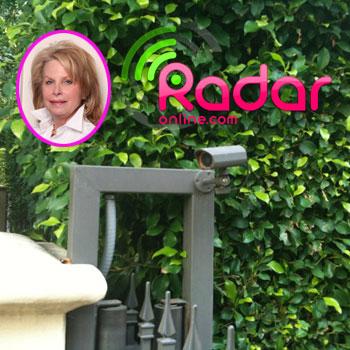 The investigation into the murder of veteran publicist Ronni Chasen got another piece of evidence in the surveillance footage from the home of Robbie Schaeffer. RadarOnline.com has a photo of the camera which caught Chasen's crash and Robbie's explanation of what the footage shows.
"It's basic footage, I mean it's grainy, all it shows is her driving down the street. Surprisingly she was able to drive straight, considering. She drove straight... She even hits the brake consciously it seems like," Schaeffer, who owns a beauty salon in Studio City called ROB|B OPI Concept Salon, told RadarOnline.com. The tape is now in the custody of the police.
Article continues below advertisement
"She brakes for the stop sign and that's almost all the way. She rolled through, then it gets fuzzy. Our cameras got a weird angle. There were no cars coming northbound...there was no light or interference so the camera caught the car turned sideways when it hit impact."
Last Photo Of Slain Hollywood Publicist -- At Burlesque Premiere
Schaeffer said he heard the gunshots in the early hours of November 16. "I was inside my garage. I happened to be up. I heard all 5 gun shots...basically, my buddy Josh was coming home from In-N-Out and he saw the first cop arrive on scene and he saw her slouched over on the wheel.
"Her door was open and somebody was trying to help her...one of the other neighbors. He came in and told me some old lady crashed into a light pole and I was like, no dude, somebody just got shot."
The next day, he looked at the surveillance tape from his home's security camera and notified police.
On the video, a Town Car is also seen passing by Chasen's car without stopping. "The police took a look at that but it could have been anything- it could have been a town car coming from the hotel," Schaeffer added. "The only thing that's weird is that the person didn't stop to check on the crash. But it also could have been a driver who was rushing somewhere. There are endless possibilities."
Article continues below advertisement