Exclusive
EXCLUSIVE: Crime Scene Photos & New Details On Murder Mystery Of Top Hollywood Publicist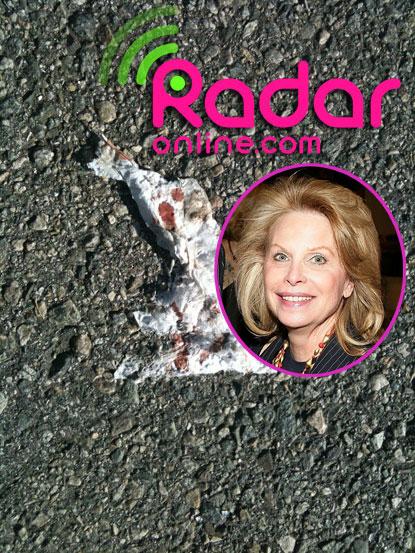 The apartment belonging to murdered Hollywood publicist Ronni Chasen was being searched for clues by the Beverly Hills police crime lab on Tuesday, approximately 10 hours after her shocking murder.
RadarOnline.com was at the scene of Chasen's West Los Angeles apartment as a crime lab worker arrived and went inside with a video camera and crime kit. Police told RadarOnline.com that they were searching for any evidence at Chasen's home that might help the investigation.
Article continues below advertisement
"Hopefully we will know more once we have completed this," a police source who did not want to be identified by name told RadarOnline.com.
See The Crime Scene Photos Here On RadarOnline.com
RadarOnline.com was first to report the sad news that Chasen, a well-known Hollywood publicist was murdered in Beverly Hills, shot five times while driving her Mercedes. The mystery of who killed Chasen and why is a sad topic of conversation among her friends and colleagues.
Hours after the murder, a bloody tissue still marks the spot where Chasen, was found with multiple gunshot wounds at around 12:30 am Tuesday.
Chasen, 64, crashed her Mercedes E350 vehicle into a pole after being gunned down in an execution-style murder near Sunset Boulevard and North Whittier Drive in Beverly Hills, California.
Watch video from the crime scene in Beverly Hills
Police tape has cordoned off the area, while glass and other debris remain on the road, scattered for up to 50 feet, near where Chasen was found.
Article continues below advertisement
Security cameras are attached to many of line the multi-million dollar homes on the street, but it's unclear if the murder was caught on tape.
Cops investigating the murder are trying to determine if the shooting was random, or Chasen was targeted.
"Anything's possible," said Lt. Tony Lee of the Beverly Hills Police Department.
One local resident near the 800 block of North Whittier Drive, who asked not to be identified, told a RadarOnline.com reporter at the scene that he overhead the crash, but did not call 911.
"I didn't hear any gunshots," the homeowner said.
There were at least two reports of multiple gunshots in the Benedict Canyon area at about that time, according to one videographer at the scene
Chasen worked as a publicist on films such as Driving Miss Daisy, Lolita and Robin Hood: Prince of Thieves. She was the head of MGM's worldwide publicity at one time and also a stalwart at Rogers & Cowan.
Police say they have no suspects and are asking the public's help in solving the killing.
Article continues below advertisement
Hollywood publicist Steve Jaffe, who worked with Chasen on a number of projects, described her as "such a great lady".
"She was a very dear friend and colleague," he told RadarOnline.com.
"Such a great lady - and so completely dedicated to her work and the movies and filmmakers she represented.
"It's such a shocking loss. My wife, Susan Blakely, is an Oscar voter so about this time of year we would see her a lot at screenings and luncheons she arranged. Ronni treated people with great respect. It seems incredible that she would die in such a violent fashion. Our last call was about this great Robert Duvall film, Get Low, produced by Dean Zanuck and David Gundlach. Ronni will be greatly missed."