Exclusive
EXCLUSIVE NEW DETAILS: What To Expect At Nicole Richie's Wedding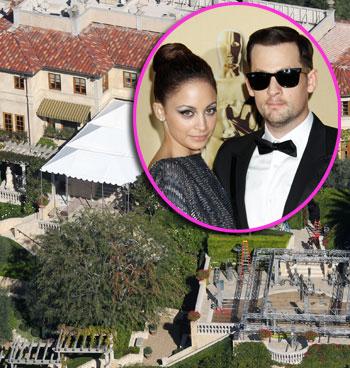 With Nicole Richie and Joel Madden's wedding imminent, RadarOnline.com has exclusive new details about the preparations for the wedding which is expected to occur this weekend at her father Lionel Richie's Beverly Hills mansion.
NEW PHOTOS: Lionel Richie's Backyard Gets Full Party Treatment
Photos that surfaced Wednesday of Lionel's backyard confirm RadarOnline.com's previous tidbit that a stage has been built on top of the pool "so guests have more space to dance."
Article continues below advertisement
Two sources have said the event is being overseen by legendary celebrity events planner Mindy Weiss. When contacted by RadarOnline.com, Weiss' office had no comment.
As of Wednesday, there were also large tents leading from the house to the expansive backyard of the estate. Security was also heightened as party preparations continued.
Despite the grand plans, a source promises it will be a smaller affair than many expect.
Article continues below advertisement
"She didn't invite a bunch of her celeb friends," the source revealed. "Nicole cut down the guest list because she didn't want a huge wedding."
On Thursday, Star Power Generators arrived at the property. The company has provided studio quiet generators to events like the Golden Globes, the Grammmys, and the Academy Awards.
Check back with RadarOnline.com for all the exclusive details about Nicole and Joel's wedding plans!