Exclusive
EXCLUSIVE: Lindsay Lohan Sober Coach Candidate -- Former Advisor To Bill Clinton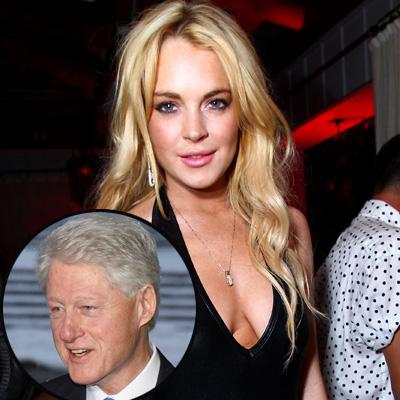 Lindsay Lohan has a candidate in mind to be her sober coach, and she's a former advisor to President Bill Clinton, RadarOnline.com is exclusively reporting.
According to Lindsay's dad Michael, the Lohan family is trying to ensure Lindsay's sobriety by surrounding her with positive influences.
"When Lindsay gets out, I want to have the right team of people around her, not the Hollywood types who leached on her in the past," Michael told RadarOnline.com.
Article continues below advertisement
Michael is campaigning for clinical psychologist Iris Martin, who has an M.S. from the University of Pennsylvania and according to the biography on numerous books she's authored, created "Corporate Therapy," which was used by Clinton for key domestic and global initiatives.
"It's people like Iris Martin who was Bill Clinton's personal analyst for over eight years who we need to be involved in Lindsay's new life," Michael said.
"I have been in touch with Iris to get her in touch with Lindsay to be part of her new life."
As RadarOnline.com previously reported, the 24-year-old has gone over 100 days withoutfailing a drug or alcohol test.
"It is people like Iris and her attorney, Tom Hansen, who is also Robert Downey Junior's attorney, who will lead Lindsay on the right path," Michael said.
"I hope Lindsay takes my advice and doesn't get caught up with the other people who have had nothing but a negative influence on her."
Article continues below advertisement
Although it's unclear what qualifications Martin has as a sober coach, she authored of the best-selling book From Couch To Corporation which won the "One of the Most Important Books in Psychology" Award by the American Psychological Association.
Michael and Lindsay recently reunited after being estranged for nearly seven months, RadarOnline.com was first to report.