EXCLUSIVE: Jacko's Death Doc Asks Court To Force D.A. To Handover Drug Syringes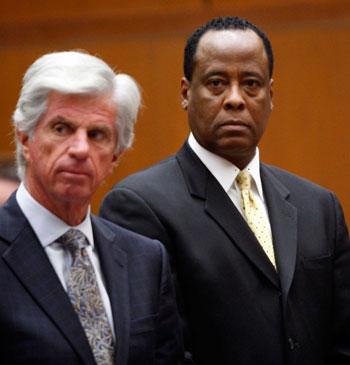 As Dr. Conrad Murray prepares himself for what is sure to be the trial of the decade, his legal team has been preparing for a battle of their own over evidence that they claim has not been accessible to them, RadarOnline.com has learned.
COURT DOCUMENTS: Read The Request For Order Requesting Evidence Testing
In court documents filed in Los Angeles Superior Court, Dr. Murray's defense team claims they still haven't been given access to syringes and IV tubing that is in the possession of the investigative agents of the Los Angeles County District Attorney's office and will appear before a judge on December 29 to request access to those samples.
Article continues below advertisement
The evidence in question was confiscated by the LAPD after Michael Jackson died in June 2009.
VIDEO: Michael Jackson's 'Hold My Hand' Music Video Released
According to documents filed by Dr. Murray's legal team, the DA hasn't agreed to the testing because of integrity issues with the testing.
One of Dr. Murray's criminal defense attorney's Michael Flanagan says in a sworn declaration, "an essential fact in this case is not only how much Propofol was in Michael Jackson's body but how it was put into his body. It is my belief that quantitative testing of the samples taken from two syringes and IV tubing is vital. It is further my belief that continued delay in this testing will be harmful and prejudicial to Dr. Conrad Murray. Since further degradation and deterioration of the evidence makes it increasingly more difficult to test, the prejudice to the defendant is increasing. At this point, the prejudice may have reached Constitutional proportions."
Dr. Conrad Murray Keeps Nevada Medical License
Flanagan goes on to say, "The evidence we are seeking to test was, and is, in the possession of the investigative agents of the District Attorney's office. The district attorney has not only delayed revealing the original testing, or lack thereof, to the defense, but has taken every measure to prevent this potentially exculpatory evidence from being acquired by the defense."
Article continues below advertisement
Judge Michael Pastor has not yet made a ruling on the matter.
As RadarOnline.com previously reported, officials said Jackson died, in part, from a lethal dose of Propofol, a strong anesthetic the live-in doctor was administering to the King of Pop.
While the syringes and an IV bag have been tested before - revealing traces of Propofol and Lidocaine - Murray's attorneys said that the amounts of each substance have not been scientifically determined, which could have a huge impact in a case leaning on scientific evidence.