Exclusive
EXCLUSIVE INTERVIEW & PHOTOS: 16 And Pregnant Kayla Says 'Being A Teenager Is Over'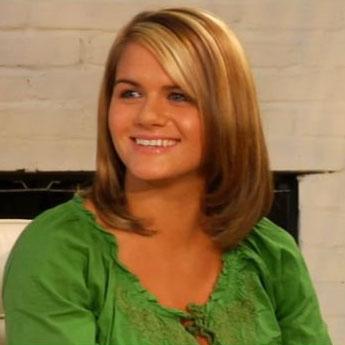 Kayla Jordan, of MTV's 16 and Pregnant, was a regular teen with a fun-filled social life who loved horse back riding, shooting guns and competing in beauty pageants.
But all that has changed now that she's a new mom to her son Rylan.
RadarOnline.com spoke exclusively to Kayla who explained that "being a teenager is now over" and she's focusing on becoming the best mom she can while getting her college degree.
Article continues below advertisement
RadarOnline.com: How are you doing as a new mom?
Kayla: "I often worry about how I am doing as a new mom. Other people tell me that I am doing a wonderful job, but I, on the other hand, have never felt like I do enough, because I feel like I never see him since I'm going to college and studying a lot. But I do love my son and I try to do everything that I think is best by him."
RadarOnline.com: Is being a mother what you expected?
Kayla: "Being a mother is exactly what I expected. Well in a nut shell anyways. The stress, the hard work, the joy, the lack of sleep, I expected it all. The only thing that surprised me is how I have handled it. I have never been one to work well under stress. I am by no means a professional mommy, but I think I do well for a young mother who's whole life revolved around a social life."
RadarOnline.com: Tell us what you miss most about life before you were pregnant?
Article continues below advertisement
Kayla: "I have always lived for a social life. With a baby you aren't exactly a hermit, but you don't exactly get asked on dates or to parties anymore. Yes I miss it, but that's part of growing up. That stage of my life is over."
RadarOnline.com: What has been your biggest challenge?
Kayla: "My biggest challenge has been realizing that being a teenager is basically over. I mean my whole life I couldn't wait until I turned 16 to drive, 18 to graduate and go off to college, etc . Now I have realized how fast life has flown by; I'm almost 19 and I wish I was a kid again. I'm talking like I wish I was 5 years old! Don't get me wrong I wouldn't take having Rylan back for anything, but I had plenty of time to be a mom."
RadarOnline.com: How do you juggle the baby, school and work?
Kayla: "I obviously haven't done such a great job at juggling being a mom and school because my first semester of college has been an epic failure, but I feel like if I take too much time away from Rylan I'm a bad mom. He's getting to where he wants me to hold him and play with him all the time and how am I supposed to say no? I know that getting a degree is what is best for us, but it's a lot easier said than done."
Article continues below advertisement
RadarOnline.com: Tell us a typical day in your life?
Kayla: "I get up at 6:00 AM, get Rylan and myself ready, take him to daycare and myself to school, do my classes, go home and study while he's at daycare, and then when my niece gets out of school I pick them both up and spend the rest of the day with them."
RadarOnline.com: If you didn't have a child, what might you be doing now?
Kayla: "If I didn't have a child then I would probably be off at college doing...well...college stuff."
EXCLUSIVE INTERVIEW: 16 And Pregnant's Markai - 'My Story Is Intense!'
RadarOnline.com: Who has been your biggest supporters through this experience?
Kayla: "My mom definitely!"
RadarOnline.com: Have you remained close with your high school friends?
Kayla: "Not close, but still friends. We hang out maybe once every month or every few months."
RadarOnline.com: Do you think you will have more children? If yes, how long do you feel you will wait?
Article continues below advertisement