Exclusive
EXCLUSIVE INTERVIEW: Jenn Sterger's Dad About Brett Favre -- 'I Better Not Meet Him In A Dark Alley!'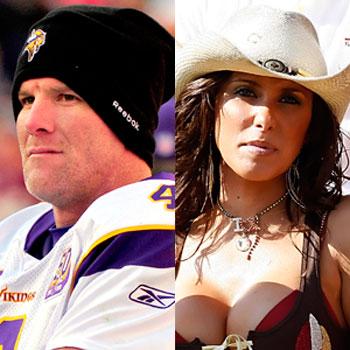 It's not only hulking linebackers that Brett Favre needs to look out for because Jenn Sterger's father has told RadarOnline.com: " I better not meet that guy down a dark alley."
Leo Sterger is furious at the paltry $50,000 fine handed out to the famous Minnesota Vikings superstar quarterback by the NFL.
The fine for the 'sexting' scandal involving the pretty reporter amounts to no more than pocket change to married Favre who is about to retire.
Article continues below advertisement
With his $16 million per year salary it would only take him three minutes of actual playing time to pay the fine!
Leo Sterger told RadarOnline.com: "It's a complete joke the penalty they gave him.
"Their decision is a complete travesty to women and they are just treating him this way because he is the NFL's golden boy.
"As a father I am absolutely furious and I better not meet that guy walking down a dark alley.
"Jenn is doing well, all things considered and if anything she feels vindicated after the NFL's decision. She's a strong woman and she is going to be okay, personally."
As for the veteran quarterback's professional future, Sterger said, "I hope that Favre never plays football again now."
The quarterback, who carved out his gridiron legacy with the Green Bay Packers, had been under investigation by NFL officials since news leaked that he sent cell phone pictures of his genitalia to ex-New York Jets sideline reporter Jenn Sterger during his stint on the team two years ago.
Article continues below advertisement
The league said Commissioner Roger Goodell "could not conclude" that Favre violated the league's personal conduct policy based on the evidence currently available to him.
"The forensic analysis could not establish that Favre sent the objectionable photographs to Sterger," the statement said. However Goodell determined that Favre was "not candid in several respects during the investigation."
The NFL also reviewed media reports that Favre pursued two massage therapists who worked at the Jets' facility in 2008. But the league said that claim could not be substantiated because people with "potentially relevant information" declined to be interviewed or cooperate with investigators