Exclusive
EXCLUSIVE INTERVIEW: Hugh Hefner On His Wedding Plans: 'I've Been Having My Bachelor Party For The Last 50 Years!'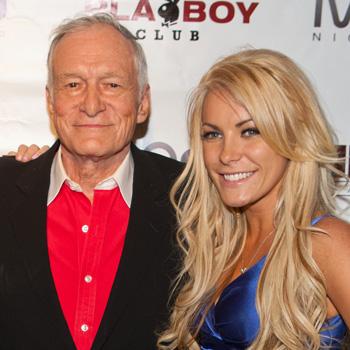 In their first interview since becoming engaged, Playboy founder Hugh Hefner and his gorgeous Playmate fiancee Crystal Harris spoke exclusively to RadarOnline.com about the proposal and revealed that the ring didn't fit!
"It couldn't have happened in a more loving way," Hef, 84, said about the Christmas Eve proposal.
Crystal said she knew she was getting a ring because one of Hef's staffers helped her figure out what kind of diamond she wanted, but she was still surprised when he finally presented it to her.
Article continues below advertisement
"I love the Little Mermaid and Hef gave me a Little Mermaid music box and he wound it up and when I opened it the ring was in a box inside. I cried!"
"There was no down on one knee; we don't follow traditions like that. When I opened the box Hef said 'I hope it fits,' but it was too big! I had to get it re-sized!"
Will the third time be a charm for the 84-year-old Hefner?
"My experience has not be very positive," he admitted about his former marriages, but said he has faith that he is making the right choice this time.
"I care about love and romance, and they are not the same thing. Sometimes marriage works against romance but in my relationship with Crystal, I find an exception to that rule. I am very optimistic about this one."
The happy pair hasn't set a date yet but Hef told RadarOnline.com that the wedding might become a reality show.
"The wedding will definitely be at the Mansion," Crystal revealed. As for her dress? "I would love to design my own dress."
Article continues below advertisement