EXCLUSIVE: Ex-Con Who Murdered Hollywood Publicist Broke Another Woman's Jaw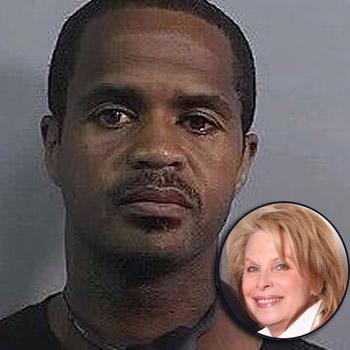 Before Harold Smith murdered top Hollywood publicist Ronni Chasen, the ex-con forced a woman to lie down on a street before violently stomping on her head and breaking her jaw, RadarOnline.com has exclusively learned.
EXCLUSIVE DOCUMENTS: Read The Complaint Against Harold Smith
The horrific attack took place on January 20, 1998, according to the family of Farah Tehrani, another of Smith's victims, who spoke out in the wake of Chasen's brutal slaying.
Article continues below advertisement
"We were shocked when we heard the same man, who attacked my mom all those years ago had committed a murder," Farah's daughter Nas told RadarOnline.com in an exclusive interview.
Last Photo Of Slain Hollywood Publicist - At Burlesque Premiere
"On the day, we heard my mom scream from outside the house, when we ran down the stairs, we saw her chasing a man up the road, he had grabbed her and tried to steal her handbag. They later told us he was carrying a knife."
While terrifying for Farah, it was a lucky escape for the Los Angeles mother, according to Nas.
"When reporting the crime to police we were told Harold had attacked another woman just 30 minutes before, but she wasn't as lucky as my mom," recalled Nas.
Police said that he had made her get on the floor and put her head on the curb. He had stomped on it breaking her jaw.
EXCLUSIVE PHOTO & DETAILS: Resident With Ronni Chasen Crash Video Details Murder Scene
Article continues below advertisement
Ballistics tests have shown the gun Smith, 43, used to kill himself last week matched the weapon from the November 16 murder of Chasen, according to Beverly Hills police.
Before his suicide, Smith was a "person of interest" in the murder, and had bragged to neighbors that he'd killed Chasen and was awaiting a $10,000 payment.
But the lead investigator, Sergeant Mike Publicker, denied theories of a "mob hit" and has declared the killing a "random act" and that Chasen was "the victim of an intended robbery".
Article continues below advertisement
Said Nas: "You never believe this would happen. I hate to say it but people will be glad he committed suicide. It makes people feel a lot safer."
The never-before-released criminal complaint in the matter of her mother reveals Smith also robbed another woman on the same day.
It reads: "The criminal complaint against Smith states, "on or about January 20, 1998, in the County of Los Angeles, the crime of second degree robbery, in violation of penal code section 211, a felony, was committed by Harold Smith who did unlawfully, and by means of force and fear take person property from the person, possession, and immediate presence of Farah Tehrani."