Exclusive
EXCLUSIVE: Zsa Zsa Gabor's Pension Halted After Listing Her Deceased!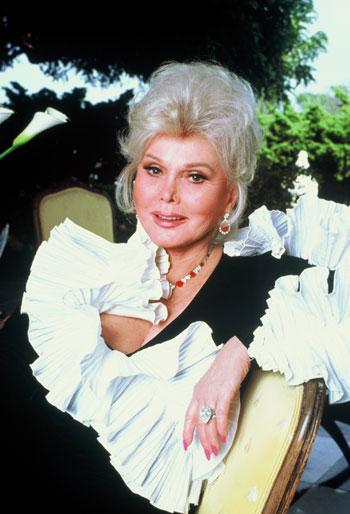 It hasn't been an easy year for veteran screen goddess Zsa Zsa Gabor. The 93-year-old has been in and out of the hospital and now it appears that AFTRA Health & Retirement fund- American Federation of Television and Radio Artists – has stopped her pension because the organization thought she was dead!
Zsa Zsa's husband, Prince Frederic von Anhalt, tells RadarOnline.com that his wife is "surely alive" and he has been trying to get to the bottom of the situation.
Article continues below advertisement
"Zsa Zsa's pension from AFTRA H & R hadn't been paid since September so I called them to see what was going on and they told me that Zsa Zsa was listed as deceased."
When Prince Frederic asked how they could possibly have come to that conclusion, AFTRA H & R told him it was a paperwork issue.
Zsa Zsa Found Unresponsive, Says Husband
"A person at AFTRA H & R told me that they sent a letter to the house – which we never got – asking about her status and when they didn't get a response, they listed her as dead.
"AFTRA H & R stopped paying because they thought Zsa Zsa was dead – don't they do their homework? Anyone can Google and see she is alive.
"I told them (AFTRA H & R) if Zsa Zsa had died, it would be on the worldwide news."
But instead of immediately paying Zsa Zsa her pension, Prince Frederic says AFTRA H & R told him they would resend the paperwork to get the ball rolling.
He says: "AFTRA H & R told me they will send us another letter – we don't need another letter, we need them to pay her pension so we can pay her medical expenses.
Article continues below advertisement
"AFTRA H & R is now 4 months behind on payments and it may take months before they can reinstate her."
Meanwhile, Zsa Zsa remains at the couple's Bel Air home, recovering from an infection in her leg that has left the actress debilitated and the medical expenses keep piling up.
"Her medical bills are expensive. I've spoken with our lawyer to find out what the next step will be," Prince Frederic tells RadarOnline.com.
When contacted by RadarOnline.com for comment, an AFTRA H & R spokesperson said, "We can't comment on the matter" before abruptly hanging up the phone.
Generous Zsa Zsa recently donated over 300 turkeys to the The Vera Davis McClendon Youth & Family Center in Venice, California for the Thanksgiving holiday.
The Center is where Zsa Zsa did her community service for slapping a Beverly Hills police officer 20 years ago.
Article continues below advertisement