Christina Aguilera Turns The Big 3-0 After Roller Coaster Year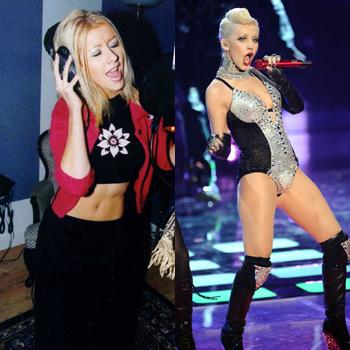 As she celebrates her 30th birthday Saturday, Christina Aguilera must be looking back at the last year of her twenties with extremely mixed emotions.
During 2010, Christina and husband Jordan Bratman split and she went public with new boyfriend Matt Rutler. She got her star on the Hollywood Walk of Fame but her first major movie, Burlesque, bombed. And just to top things off, a hacker got into her computer and leaked semi-nude photos of the singer!
Article continues below advertisement
There's no word yet on what Aguilera and Rutler will do to celebrate her milestone birthday. They were in Berlin on Thursday where she was promoting Burlesque.
That puts them just a stone's throw from birthday boy Brad Pitt, who was in Madrid that same night while Angelina Jolie opened her film, The Tourist.
A joint soiree at the Pitt-Jolie chateau in France sounds just perfect!
Cher & Christina Aguilera At The Burlesque Premiere In London