Chelsea Handler Bashes Angelina Jolie - Again!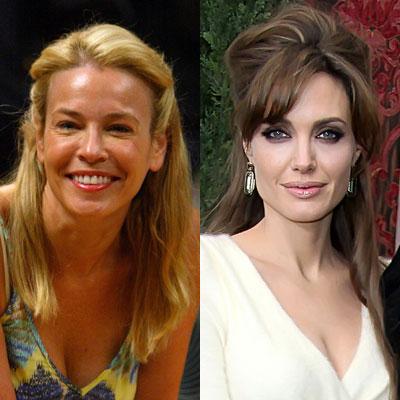 Chelsea Handler isn't keeping her distaste for Angelina Jolie a secret, and for the second time this week, the late night comedienne bashed the Salt star, referring to her as "a woman that you'd really want to avoid."
"Yeah, I'm not a fan," Handler told journalist Katie Couric in a new interview with Glamour magazine.
"She just doesn't come off to me as a sincere woman. She seems like a woman that you'd really want to avoid."
Article continues below advertisement
The blunt comedienne has been notorious for siding with pal Jennifer Aniston, and as RadarOnline.com previously reported, Handler called Jolie a "c*nt" and a "b*tch" during a stand-up performance over the weekend in Newark, New Jersey.
"Jennifer Aniston makes me laugh," Handler said.
"She's irreverent and hilarious, and she sends me really, really funny emails."
Handler recently returned from a weekend in Mexico with Aniston, who Brad Pitt left for Jolie after the two struck up a romance on the set of their film, Mr. & Mrs. Smith.
On Monday night, Handler made a point to defend her harsh comments about The Tourist actress on her late night E! show Chelsea Lately, saying she's been using Jolie as a punching bag in her comedy routines for years.
"Can I just say that I've been making fun of Angelina Jolie since she made out with her brother?" Handler said, referring to the actress famously kissing her brother James Haven on the lips in 2000 after winning the best supporting actress Academy Award for her performance in Girl Interrupted.