Brad & Angie Take The Kids To See His Parents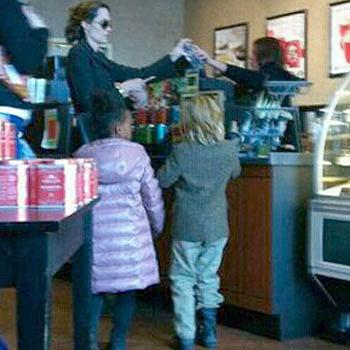 Angelina Jolie and Brad Pitt's exotic holiday travels have taken the family to Springfield, Missouri, RadarOnline.com has learned.
After spending Christmas in Namibia, the African nation where Shiloh was born, the family flew to Missouri for a get-together with the Pitt family.
Brad grew up in the area, and his parents Bill and Jane, sister Julie and brother Doug all still live there.
The Pitts remain an extremely close family, and Brad and Angie typically make a couple trips a year so their kids can bond with their grandparents, aunts, uncles and cousins.
Article continues below advertisement
The family arrived in Springfield on Monday, Angie, Zahara and Shiloh had a girls outing to a Barnes & Noble and Starbucks on Tuesday. K-Mart fit into their adventures as well.
By Thursday, they were spotted boarding their private jet for their next destination.
And by the look of all the gifts being loaded on to the plane, the Jolie-Pitt kids made out like bandits in Missouri!
RELATED STORIES: