PHOTOS: Angelina Jolie's Day Out With Her Fashion Forward Family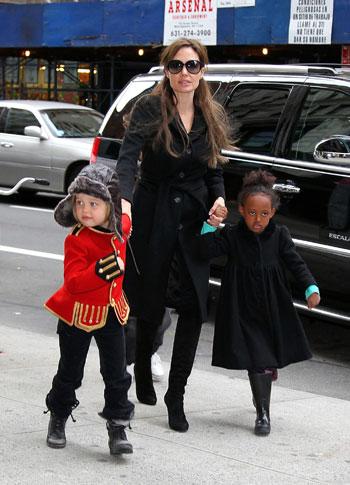 Angelina Jolie and her fashion forward family looked catwalk ready as they hit the streets of New York dressed in all the latest trends.
For the group trip to Lee's Art Shop, Zahara, five, sported a mini version of her mom's black ensemble, but ditched the high heels for a pair of Wellington boots.
But it was four-year-old Shiloh who stole the show in a bright red military jacket, deer hunter hat and scruffy work boots.
Article continues below advertisement
Not wanting their sisters to steal all the limelight however, older brother, Maddox, nine, and seven-year old Pax – who hid behind a teddy bear - made some fashion statements of their own with an oversized fur jacket and camouflage vest.
The Joli-Pitt clan – minus Brad and twins, Knox and Vivienne, two - are enjoying being back in America, where Angelina is promoting her new film The Tourist.
The mom of six was forced to defend, Shiloh's unusual, boyish dress sense again last week, telling London's Daily Mail You magazine, that she is happy with the way her daughter expresses herself.
"I don't think it's for the world to interpret anything," she said. "She likes to dress like a boy and wants her hair cut like a boy and she wanted to be called 'John' for a while.
"Some kids wear capes and want to be Superman and she wants to be like her brothers. It's who she is."
RELATED STORIES:
VIDEO: Chelsea Handler Defends Trashing Angelina Jolie