VIDEO: The Situation Defends His Brother, His Castmates - And The Word 'Grenades'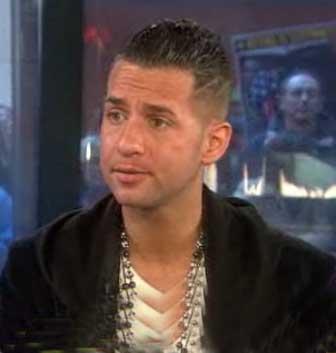 Mike "The Situation" Sorrentino sat down with the Today Show Tuesday to promote his new book, and the MTV star dished on everything from his brother Marc's legal woes to the examples set by Jersey Shore, and his own references to unattractive women as "grenades."
Watch the video on RadarOnline.com
Asked about the accusations levied against his brother Marc (a Manhattan woman claimed he assaulted and abducted her ), The Sitch didn't go in-depth, but did say he's "pretty sure this is 100 percent false."
Article continues below advertisement
The Situation was asked if the hard-partying, hedonistic lifestyle seen on Jersey Shore was sending the wrong message to impressionable youth who emulate him, Snooki and the rest of the gang.
"This show is totally real," he said. "Life's not a cookie-cutter ... I'm not perfect, nobody's perfect."
He added the show is edited "in a certain way" to bring viewers the footage shot that best reflects the rowdy lifestyle America has come to expect from the Garden State hellraisers.
"Whatever you see is what's happening," he said. "You're only seeing a narrow view of what's happening - it's a party show, so you're going to get that party feel."
Asked if he thought using the term "grenades" in his new book to describe unattractive women was misogynistic, The Sitch said it's said out of humor, not malice.
"You know what, the book is a humorous look at begin in your 20s, eating, going out, dating, working out, but its a very humorous way to look at it," he said. "Almost like Jersey Shore."