Exclusive
EXCLUSIVE: Woman Allegedly Attacked By The Situation's Brother Plans On Filing Charges, Says Dad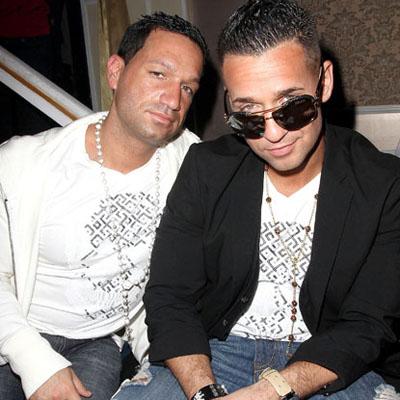 Kathryn Redino, the woman allegedly assaulted and attacked by Mike "The Situation" Sorrentino's brother Marc, is planning on pursuing charges related to the incident, RadarOnline.com has learned exclusively. But we've also learned that there are charges pending against her.
"It might be a he said/she said situation, but she wants to pursue with charges at this point because she was assaulted, scared and took against her will," her dad Richard told RadarOnline.com.
Article continues below advertisement
Marc's attorney Ray Raya told RadarOnline.com that a criminal complaint for filing a false report against Marc has been issued by the Howell Township (N.J.) Municipal Court.
"The criminal complaint indicates that the woman falsely reported that she was the victim of a simple assault," Raya said.
Richard Redino told RadarOnline.com that he expects a smear campaign against her daughter but, "she's a good girl and is tough and wants to pursue this."
Kathryn alleges that Marc held her against her will in a limo, with Mike "The Situation" and several friends present. She voluntarily got in the limo and hung out with the guy's at an apartment. But she claims trouble began when they left the apartment and got back in the limo. The New York Post reports she asked to be dropped off at her New York apartment but the men refused and told her she was coming to New Jersey. She also claims Marc broke a bottle and held it to her neck.
Article continues below advertisement
But Marc's lawyer points out that her story lacks credibility and when she first tried to file a police report on October 20, police investigated and did not pursue charges.
"On October 20, 2010, the Howell Township Police Department investigated an alleged complaint by a woman that she was assaulted by Mr. Sorrentino. After an exhaustive investigation, including eyewitness accounts and physical examination, the Howell Police declined to file charges against Marc Sorrentino," Marc's lawyer Raya said.
"Two days later, on October 22, 2010, the woman took the law into her own hands and filed a citizen's complaint against Marc Sorrentino."
But Raya, who previously defended Jersey Shore's Snooki in her acting-drunk-in-public incident, noticed inconsistencies in the story Kathryn originally told police and the facts she alleged when filing her own criminal complaint against Marc. Those inconsistencies led to the false report charge against her.
Article continues below advertisement
The Howell Township Court issued the False Police Report one day after the woman's complaint, according to a press release from Raya. "After a thorough examination by the court staff, comparing the police report to the actual citizen's complaint, it became clear that there were major inconsistencies that warranted the filing of the False Police Report charge." Raya says in the release.
Kathryn's father told RadarOnline.com that Kathryn wanted to go to her apartment on the Upper East Side of New York but the men in the limo refused. "When she got in the tunnel and realized that these guys were not taking her to the Upper East Side she protested and asked them to take her to a cab or a bus station," Richard said.
"She couldn't get out in the tunnel and she asked to get out numerous times." Once they arrived at Marc's home in New Jersey, Kathryn called 911 instead of getting out of the limo according to her father. "They were not being gentlemen and she tried to be tough and smile but these are not good guys."
Besides physical attacks (like getting "struck in the abdomen and chest" according to her dad), Kathryn also suffered emotional trauma. "There were lots of things that were said to her that scared her very much."