VIDEO: Priest Accused Of Stalking Conan O'Brien Upset With Church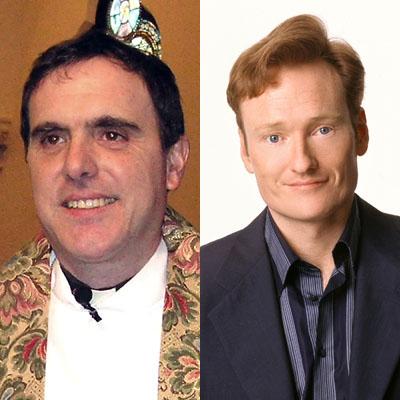 Father David Ajemian, a New England priest who was arrested on charges he stalked late night host Conan O'Brien three years ago, told Boston's Fox's affiliate that church officials have treated him unfairly - worse than child molesters - in his attempts to minister again.
Watch the video on RadarOnline.com
Ajemian was taken into custody in 2007 outside O'Brien's studio in New York City, after writing a series of disturbing letters to the former Tonight Show host. He claimed in one letter he was O'Brien's "priest-stalker" and asked the comic, "is this the way you treat your most dangerous fans?"
Article continues below advertisement
Ajemian - who's been diagnosed as bipolar, and said an adverse reaction to a stimulant he was prescribed spurred his actions against O'Brien - subsequently pleaded guilty to a disorderly conduct charge, and was ordered by the court to stay away from the late night host.
Ajemian said in his efforts to minister again, the Archdiocese of Boston has treated him worse than priests convicted of child molestation, adding "some of the child molesters have been allowed to return to work in spite of what they did."
He said when the Archdiocese placed him in a treatment facility, he was "put among a group of people who were largely accused of sex crimes and substance abuse. What distressed me most of all, is that the Archdiocese said, 'We would almost like you to stay in these settings for the rest of your life.'"
The Archdiocese told Fox in a statement: "The Archdiocese has many times and in many ways attempted to provide appropriate and comprehensive care for Fr. David Ajemian. We continue to pray that Fr. Ajemian will avail himself of the resources we have offered to him."