PHOTOS: Vanessa Minnillo & Nick Lachey Celebrate Their Birthdays & Engagement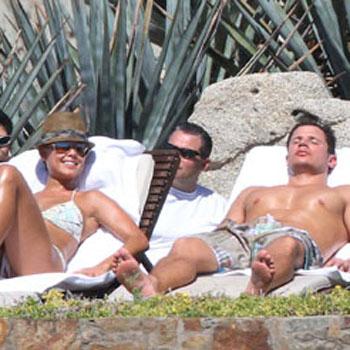 Nick Lachey and Vanessa Minnillo are still lounging on the beach in Mexico -- celebrating in one week both of their birthdays and their wedding engagement. RadarOnline.com has all the best pictures of the happy couple.
On Tuesday, Nick turns 37 and Vanessa will have to face the big 3-0. Another famous Hollywood couple, Michael Douglas and Catherine Zeta-Jones also share a birthday (Sept. 25).
They headed off to a beach resort in Mexico late last week to celebrate, right after announcing they'd become engaged to marry.
Article continues below advertisement
"We're excited and incredibly happy about our engagement and we look forward to a wonderful future together," the couple said in a statement.
AUDIO: Nick Lachey Talks About His Brief Split From Vanessa Minnillo
Nick was previously married to Jessica Simpson, and their TV series Newlywed: Nick and Jessica, set off the firestorm of reality TV.
Vanessa has already stated that there definitely will not be a reality show in her future with Nick.