PHOTOS: Black Friday Bikini Babes!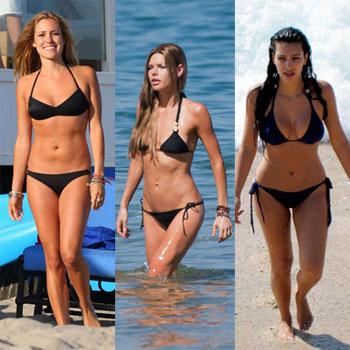 Black Friday is the busiest shopping day of the year, as we all get a head start with their holiday shopping, hitting the biggest sales of the year.
In honor of the special post-Thanksgiving shop-til-you-drop day, RadarOnline.com has compiled photos of Hollywood's sexiest stars, stripped down and skinful in their black bikinis!
When you have eight kids to accessorize your swimsuit, who needs a colorful bikini?
Article continues below advertisement
Kate Gosselin sticks to the basics when she hits the beach with her adorable brood, showing off her amazing figure in simple style.
And what would be the point of Kim Kardashian wearing a bright and attention-grabbing bikini, when her covetable curves do all the talking?
The bombshell reality show star gets enough stares because of her dangerous curves.
See Kim make a splash in her black bikini here.
Spanish beauty Penelope Cruz brings enough sizzle to the sand with her hot body and colorful personality, so a black bikini is all she needs to make a statement.
See Penelope spice it up in her bikini here.
Stars like Paris Hilton and Eva Longoria like to wear sexy, cutout swimsuits, but keep their look classy rather than trashy by sticking to the dark, non-color.