PHOTOS: A Call To Arms! Hollywood's Sexiest Stars Show Off Their Great Guns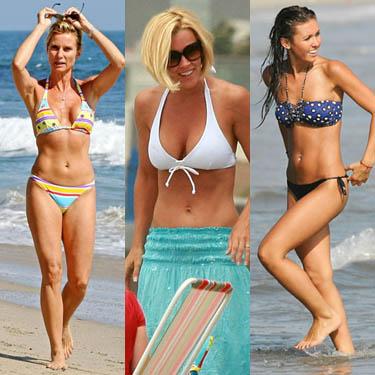 It's a call to arms! Anyone can look great all blinged-out on the red carpet, but these Hollywood stars are at their sexiest when they strip down to the bare minimum and show off their killer curves and great guns.
Jennifer Aniston may have been blessed by mother nature with a gorgeous face, but the former Friend works out hard to keep up her flawless body!
Jen keeps her curves toned and taut and her arms dangerously chiseled through a rigorous yoga regiment, which all pays off when she hits the beach in her skimpy bikinis.
Article continues below advertisement
And when it comes to guns, Million Dollar Baby Hilary Swank has got one of the most smoking hot sets in town.
The Academy Award-winning actress has transformed her body several times throughout the years in honor of her craft, but she always manages to keep her arms looking truly amazing!
See Hilary's Swank-y body here.
Audrina Patridge may not have been the most dangerous diva on The Hills, but she definitely had the most amazing arms. The flawlessly figured star, who effortlessly showed it all off on Dancing with the Stars this season, keeps her arms defined in the most luscious way possible.