PHOTOS: Bikini Babes With Blockbuster Bodies - And Holiday Movies!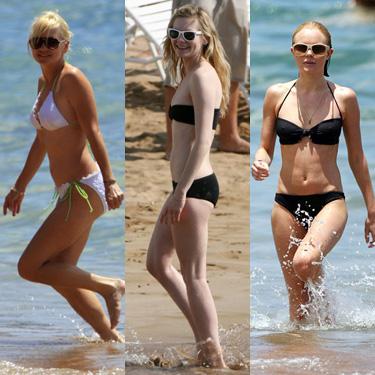 'Tis the season to be jolly, and head to the movies!
This year, Hollywood's sexiest stars will be featured on the big screen in blockbusters including Burlesque, Love and Other Drugs and The Tourist.
Before you head to the cinema, RadarOnline.com has photos of the hottest leading ladies stripped down to their bikinis in this special holiday photo feature.
Angelina Jolie is by far one the hottest stars in the biz-and when it comes time to strip into a skimpy swimsuit, she proves why she deserves the seven-figure paychecks. Brad's baby mamma is sure to have everyone drooling, when The Tourist comes out on December 10th.
Article continues below advertisement
Kate Bosworth has a lot of experience in a bikini! The blonde babe, who became a household name when she made a splash in Blue Crush, is ready to kick some butt at the box office on December 3rd in the martial arts western The Warrior's Way.
Get a sneak peek of Kate's sexy, stripped down body here.
Reese Witherspoon always fares well with her scandal-free bikini body-and at the box office. The blonde beauty's latest flick How Do You Know, which co-stars Owen Wilson, will be in theaters just in time for Christmas, on December 17th.