PHOTOS: Bikini Babes! Stars Strip Down And Show Off Their Ink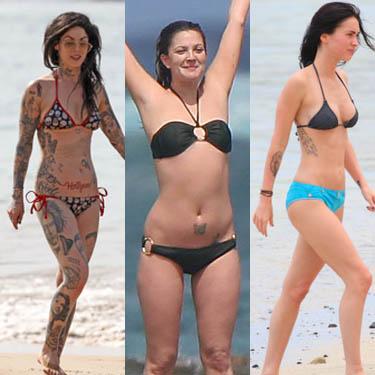 These stars have a lot more to show off than their hot bods, when they strip down into their skimpy bikinis! Though tattoos used to be taboo for sexy and glamorous women, it seems like every chart-topping singer and blockbuster babe has one these days.
RadarOnline.com has compiled photos of Hollywood's sexiest stars who have been permanently inked-stripped down into their swimsuit.
Poor Eva Longoria!
Article continues below advertisement
After a shocking split with Tony Parker, the Desperate Housewife beauty has to do a lot more to do than just get a divorce to rid herself of the player. Eva thought she would spend the rest of her life with the French fox, getting more than one tattoo honoring Tony. At least Eva makes lots of money to pay for a stellar divorce lawyer-and a top-notch tattoo removal expert!
Adriana Lima has to be careful not to change her Angelic body too much, since she gets paid the big bucks by Victoria's Secret, but the Brazilian babe has managed to sneak in some sexy ankle ink! The sizzling supermodel has a tribal pattern along with a simple star on her left foot.
While it hasn't hard to see that Kat Von D and Pink live to be tatted, stars like Jessica Alba, Penelope Cruz and Carmen Electra are better at keeping their inked artwork under wraps. While Jessica has a Sanskrit character for a lotus flower on her wrist, Penelope sports the number 883 on her ankle and Carmen has one hidden behind her ear and one underneath her wrist.
Tramp Stamp alert!
Several Hollywood stars indulged in the popular tattoo trend several years back. Eva Longoria, Anna Kournikova and Nicole Richie are just a few of the bikini babes who decided to show off their independent spirit, by inking up their lower backs.