PHOTO: 'Hiccup Girl' Wipes Away Tears During Hearing - And Hiccups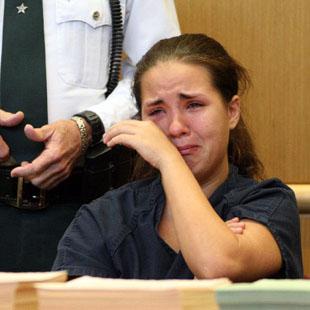 Jennifer Mee, the teen who made headlines three years ago for her devastating battle with hiccups, sobbed - and hiccupped - repeatedly during a bond reduction hearing in Largo, Florida Tuesday, and RadarOnline.com has all the details for you.
As RadarOnline.com previously reported, the 19-year-old was arrested October 24 along with with two men (Lamont Newton, 22; and Laron C. Raiford, 20) in connection with the fatal shooting of Shannon Griffin, 22, during a botched robbery attempt in St. Petersburg, Florida.
Article continues below advertisement
Judge Donald Horrox did not issue his ruling on whether to grant bail to Mee Tuesday, but said he will have a decision by Friday.
In arguing for the bond, Mee's attorney John Trevena told the St. Petersburg Times that all of the evidence in the case hasn't been made available, while prosecutor Moin Kahn claims that there's plenty -- including statements from Mee -- to keep her held in custody.
EXCLUSIVE PHOTO: The Smiling Mug Shot Of TV's 'Raising Sextuplets' Dad
Police last week said following the arrest of the trio: "Jennifer Mee lured the victim to the address... and Raiford and Newton robbed him at gunpoint and took miscellaneous items from his person... all three suspects admitted to their involvement and were charged with 1st degree felony murder."
Griffin, police said, was shot four times with a .38-caliber revolver.
Mee's hiccup problems landed her multiple appearances on The Today Show back in 2007. She was subsequently diagnosed with Tourette's syndrome and granted disability payments for her ailments.