Octo-Mom Didn't Know Doc Used Her As A 'Human Guinea Pig' Says Lawyer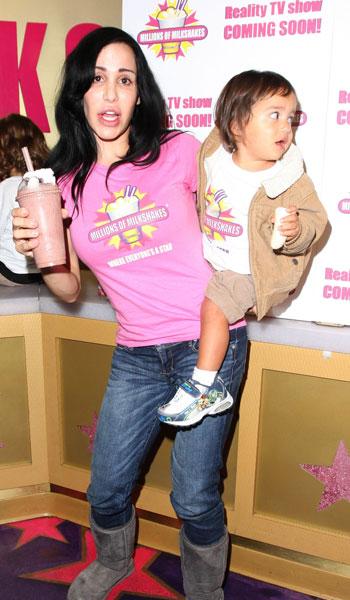 In a shocking accusation, the attorney presenting the case against Octo-Mom Nadya Suleman's fertility doctor claimed that the mother of 14 did not know she was part of an experimental study, RadarOnline.com has learned.
Deputy Atty. Gen. Judith Alvarado said Suleman had unknowingly been used as a "human guinea pig" by Dr. Michael Kamrava.
He took the stand on Thursday and testified that Suleman had volunteered for a study that used an experimental embryo implantation technique cited by federal regulators.
Article continues below advertisement
Dr. Kamrava said Suleman knew she was participating in a study and he spoke with her "extensively" about it and said she agreed to participate.
"She heard about it and she volunteered," Dr. Kamrava said.
Alvarado questioned Kamrava until he admitted that the consent forms he supplied to Suleman did not specify that she was a test subject.
"Where on this form does it say that?" Alvarado asked Dr. Kamrava.
An investigator for the U.S. Food and Drug Administration's Canoga Park office testified that she was investigating whether Dr. Kamrava obtained proper consent from patients, including Suleman, for a procedure that used a camera to film inside the uterus when the embryos are implanted.
"There was a lot of confusion about when the study was conducted," Donna Tartaglino Besone testified.
The Deputy Atty. Gen. then added a 10th charge to the accusation against him for dishonesty and corrupt acts related to failing to obtain patient consent.
Article continues below advertisement
The hearing has now concluded and Alvarado said afterwards that Kamrava acted "far outside the standard of care" in the Suleman case, which suggests he "poses a risk to the health and welfare of the community."
If Administrative Law Judge Daniel Juarez finds Kamrava grossly negligent in his treatment, he could have his license to practice medicine revoked.
It could take up to five months to get the results though, as Juarez has two months to make a recommendation to the Medical Board, who then has three months to decide whether or not to revoke his license.