Heidi Montag's Mom Mocks Daughter's Lifestyle On Blog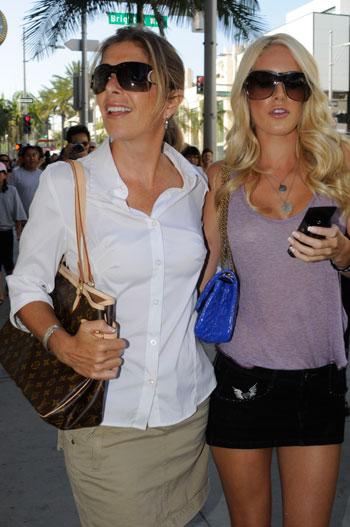 Heidi Montag's cash-strapped mom, Darlene Egelhoff, has scoffed at her famous daughter's love of five star hotels and spas on her website, RadarOnline.com can reveal.
Egelhoff – who is currently working as a maid to help make ends meet after being forced to close her family run restaurant– made the observation on the latest entry on her blog.
EXCLUSIVE: Watch Spencer Pratt's New Film Here!
The mother and daughter have had a strained relationship in recent years but that hasn't stopped Egelhoff from posting childhood photographs of her family and talking about them openly.
Article continues below advertisement
The 47-year-old mother-of-three writes honestly in her "Metamorphosis of a Mother" blog about her life and struggles while residing in Colorado.
In the latest entry entitled "Time Stands Still," Egelhoff writes of a dream she has of taking a remote outdoor trip with her three children Sky, Heidi and Holly.
She writes: "I allow my memories to come alive; I imagine Sky is wound up, lit, doing anything possible for Holly's attention.
"Holly is laughing hysterically at everything he does, not wanting to get caught enjoying herself as she professes to hate these trips.
"Eventually she will be able to convince Heidi to do the same, preferring to sleep in five star Hotels with all inclusive spas as opposed to the dirt, I still don't get it, I prefer the experience and solitude that comes with the dirt."
While Heidi and her sister Holly Montag continue to live the high life in Los Angeles, their mom admitted to Inside Edition recently that as a result of the economy, she has fallen on hard times.
Article continues below advertisement
Egelhoff has gone from owning her own restaurant and appearing on The Hills to cleaning houses for a living and getting free lunches for her son, Sky, at school.
EXCLUSIVE VIDEO: Cops Storm Heidi & Spencer's House, Hold Them At Gunpoint
"Money seems to be getting tighter every year and now that we've lost our business and have no jobs, it's tougher than ever," Egelhoff wrote previously in her blog.
But Egelhoff is keeping her head high, even flattered by the recognition from her new clients.