VIDEO: Get Ready For Another Duggar Baby!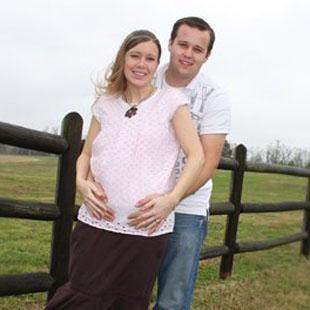 The oldest of the Duggars' 19 kids, Josh, is expecting his second child with wife Anna next summer, RadarOnline.com has learned.
Watch the video on RadarOnline.com
"We're expecting!" Anna told the Today Show's Meredith Vieira Thursday.
Anna, who has a 1-year-old daughter named Mackynzie with Josh, credited the couple's faith in uplifting them after experiencing a miscarriage this past summer.
"I think a lot of ladies can relate," she said. "Thirty to 40 percent of pregnancies end in miscarriage, but most of the time it happens so early on, you don't even realize you're pregnant. It was hard to go through the excitement to find out we were expecting a little one, and then losing it.
Article continues below advertisement
"But one thing that really helped was thanking God," she said. "Thanking him in the good times and thanking him when things don't go the way we expected them to."
A proud Jim Bob said, "This doubles our grandchildren -- we're really excited about our new grandchild."
The conservative Christian family, headed by Jim Bob and Michelle Duggar, follows Quiverfull, a movement that places an emphasis on the bible's demands to be fruitful and multiply. Their 19 children are named Josh, Jana, John-David, Jill, Jessa, Jinger, Joseph, Josiah, Joy-Anna, twins Jedidiah and Jeremiah, Jason, James, Justin, Jackson, Johanna, Jennifer, Jordyn-Grace and baby Josie.