EXCLUSIVE: Top Hollywood Publicist Murdered In Beverly Hills Shooting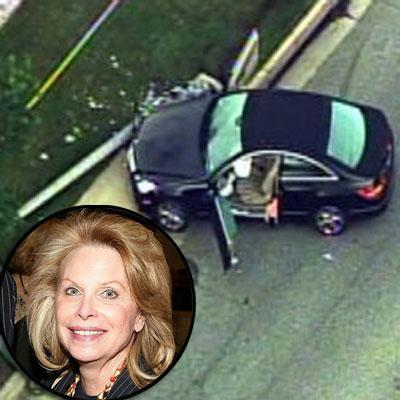 Ronni Chasen, a well-known Hollywood publicist, was shot five times before she crashed her Mercedes-Benz in Beverly Hills early Tuesday, leading to her death, RadarOnline.com has exclusively learned.
Chasen, 64, was shot while driving until she crashed into a light-pole around 12:30 a.m.
RadarOnline.com was first to break the news of the victim's identity. After our initial story, authorities later confirmed the news to other media outlets.
Article continues below advertisement
Watch video from the crime scene in Beverly Hills
In addition, an employee of Chasen's public relations/marketing firm - Chasen and Co. - told RadarOnline.com that police told him Tuesday that the victim was Ronni.
Police initially called to the scene said the victim - only described as a woman in her 60s - was "in and out of consciousness but breathing,'' but a second look from firefighters called to the location determined she'd been shot multiple times. She was subsequently taken via ambulance to Cedars-Sinai Medical Center, where she was pronounced dead.
Chasen had worked as a publicist since 1973, according to iMDb, with high-profile films on her resume such as including 1989's Driving Miss Daisy and 1994's Lolita. Other movies she'd promoted included The Swan Princess, Rich In Love and Stay Tuned. Other films she did work for, according to PRNewswire, included Cocoon and Cocoon II, The Verdict, On Golden Pond, Baby Boom, Rocky III and Rocky IV, Music Box and Robin Hood: Prince of Thieves.
Article continues below advertisement
In February 1993, she had been named senior vice president of worldwide publicity at MGM.
"I was both delighted and surprised when MGM approached me about this position," Chasen told PRNewswire following the appointment in 1993. "I've given this very careful thought, and, although I will miss working with my personal clients on a day-to-day basis, I look forward to this new opportunity with great enthusiasm ... this will be a very exciting period for the company, and I am delighted to join the MGM team."
MGM executive Ashley Boone called Chasen "one of the most respected publicity executives in the business" with "strength and expertise in developing, positioning and executing productive motion picture campaigns."
Chasen was also active in community affairs, having lent her talents to organizations including Women in Film, the Academy of Motion Picture Arts and Sciences and The Big Sisters of Los Angeles.