Exclusive
EXCLUSIVE: Tiger Woods Sex Tape Claim Explodes; Porn Star Files For Bankruptcy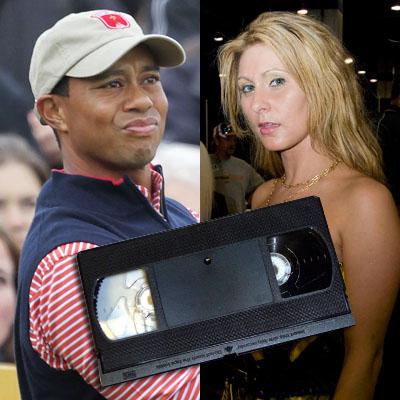 It looks like Tiger Woods has one less problem to worry about.
EXCLUSIVE DOCUMENTS: Read Porn Star's Bankruptcy Papers
The Florida porn star selling a sex tape -- that she claimed featured her with the golfing great -- has filed for bankruptcy, RadarOnline.com has exclusively learned.
The filing is particularly noteworthy because Devon James and her husband Nick claimed to RadarOnline.com that they had been paid more than $300,000 for the sale of the sex tape.
Article continues below advertisement
But the bankruptcy papers they filed under penalty of perjury directly contradict that claim, with the couple listing assets at zero to $50,000. There is also no sign of the sex tape payment in the papers, which includes a complete listing of assets.
The brazen couple has a Web site that is currently active and accepting orders for the sale of the Tiger sex tape. But a close examination of the bankruptcy papers obtained exclusively by RadarOnline.com, shows that the couple does not have any assets from an outside company. (Even if James accepted payment by setting up her own corporation she would have to list it on the papers.)
James - aka Melinda Jannette - and her husband Nick filed for Chapter 7 bankruptcy protection in Florida on October 20. The documents show that Nick and Devon, who falsely claimed Tiger was the father of her love child is $231,124.01 in debt.
That's despite the Jannettes' bold and emphatic claims to RadarOnline.com that they sold the tape for $350,000 to an unspecified DVD production company.
Amazingly, they are still accepting orders for the "sex tape." They set up tigertapexxx.com and advertise "Devon James and Tiger Woods Sex Tape On Sale Now." They claim on the site that the tape will be released November 15.
Article continues below advertisement
The bankrupt couple has been accepting payment for "the tape" through Visa, Mastercard and Paypal.
Devon and Nick have refused to show RadarOnline.com any proof the tape exists. At one point, Devon told us that screen captures for the tape would be posted the next day. That day came and went without the photos.
Nick bragged that he made a six-figure deal to sell the screen captures but provided zero proof. He then claimed he was negotiating with Tiger's lawyers to sell them the tape, but again has provided zero proof.
And the bankruptcy papers indicate that Devon and Nick do not have any asset as valuable as a Tiger Woods sex tape.
The amateur porn entrepreneurs list their only assets as $1800 worth of personal property; $1200 household good and furnishings, $300 in clothes and a further $300 in cash on hand.
Despite their bankruptcy, Nick boasted to RadarOnline.com on Monday how he and his wife had "maxed out" pre-order sales of the alleged tape that purports to show "Tiger Woods' former girl playing all the holes".
Article continues below advertisement
Yet when it came to signing a legally binding document, filed with the United States Bankruptcy Court, the Janettes confessed they have ZERO intellectual property even though they're supposedly sitting on a multi-million dollar commodity.
And when asked if they had copyrights, patents, licenses, franchises or another intangible - something that would constitute a marketable product - the couple declared, to a Tampa court: "None."
In the court filing, the sex tape brokers declare they don't own stock or have interests in another incorporated or unincorporated business, even though a business, Devon James Productions, is mentioned on their website as selling and marketing the tape.
What's more, Nick boasted to RadarOnline.com that as a result of pre-orders, he had made over $4 million in sales and was driving around in a brand new "truck".
Article continues below advertisement
RadarOnline.com broke the story that another man, Teneal Goyco, 29, claimed he was Tiger's doppel-banger and Devon offered him $1,000 to fulfill her fantasy of frolicking with Tiger.
"I was in it to make a couple bucks and have sex with a pretty lady," Goyco told RadarOnline.com.
"I just thought I was fulfilling this woman's fantasy of having sex with Tiger Woods, as she had said she wanted."
In an exclusive interview, Goyco said that James and her husband dressed him up in a Nike hat and sweater vest and that she insisted on calling him "Tiger" throughout their steamy two-hour video shoot in a Philadelphia hotel room.
Questions about the veracity of the tape were first raised after Devon's former manager Gina Rodriguez, a former porn star turned manager-to-the-mistresses, insisted "the tape does not exist".
She said, "This is definitely a scam and I would advise anyone thinking of buying it to not send sending in your money for pre order, because the tape does not exist and if they have a tape, it's NOT Tiger."
The Jannette's former advisor also claimed Devon and Nick had once suggested employing a look-a-like of the philandering golfer to feature as a stunt double.
Article continues below advertisement
Rodriguez recalled, "Nick knew Tiger was not in any video so he said, 'We should find a Tiger look a like and make a tape, no one will know.' I told them that I would have no part of a fake tape."
However, a defiant Nick responded, declaring the 62-minute video clearly shows the golf great in 37 minutes worth of compromising positions.
It was filmed in a Tampa condo two years ago, he claimed.
Even Devon's own mother, Sandra Brinling, has cast doubt about whether her prostitute daughter even slept with Tiger.