Alleged Tiger Woods Sex Tape Comes With Tricky Purchase Terms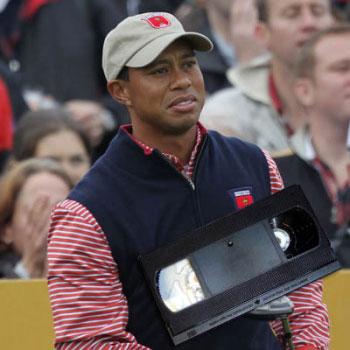 Read the fine print: the company selling the alleged Tiger Woods sex tape with porn star Devon James includes some tricky terms of agreement, RadarOnline.com has discovered.
According to the "Terms and Conditions" set forth by the website the tape is available only for pre-orders and the company has the right to yank the release of the tape at any time.
"The Company may, at any time and at its sole discretion, cancel any release of the video," the terms read.
Article continues below advertisement
"However, that if the Company cancels any release of the video to its expiration, the Company shall provide a pro-rata refund for the unexpired period of the cancelled release of the video by automatic credit."
A pro-rata refund usually means that the portion of money to be returned is determined by a factor like time, like when one cancels their insurance and is given a prorated amount back based on how much time is left on their term. But for a product like a sex tape, a pro-rata refund becomes ambiguous and could leave room for the company to profit without the buyer receiving anything in return!
James, a Tampa prostitute who claims to have had an affair with Woods and then falsely alleged he was the father of her love child, is charging $25.95 for the tape that will ship to buyers on November 15.
"Sales have skyrocketed according to James' husband, Nick, who told RadarOnline.com that they have already sold over 150,000 copies of the tape in pre-sales."
As RadarOnline.com previously reported, controversy clouded the authenticity of the sex tape when Teneal Goyco claimed he was paid $1,000 by James to film the tape as a "Tiger look-a-like."
Article continues below advertisement
Goyco said he filmed sex scenes with James and that she and her husband had him "dress" like Tiger, with a Nike hat and sweater vest, and that she called him "Tiger" throughout the filmed romp.
"I just thought I was fulfilling this woman's fantasy of having sex with Tiger Woods, as she had said she wanted," Goyco said.
RadarOnline.com has not seen the tape and James, whose real name is Melinda Janette, has not provided any proof to verify its existence. The company that has allegedly purchased the footage has not been identified and no screen grabs from the video have surfaced.
A legal war has also broken out over the tape, with Goyco lawyering up after he realized the James' were using the video for financial gain instead of personal use, as he'd originally thought.
"My wife is a porn star; she gets paid to make porn, she doesn't pay men – that is a joke," Nick told RadarOnline.com.
RELATED STORIES:
EXCLUSIVE: Legal War Breaks Out Over Alleged Tiger Sex Tape