Exclusive
EXCLUSIVE: Teen Mom Amber Portwood's Daughter Confused, Calls Grandmother 'Mom'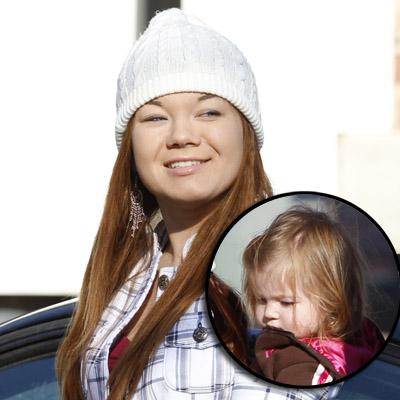 Little Leah - the two-year-old daughter of Teen Mom stars Amber Portwood and Gary Shirley - is so confused about who her parents are she refers to her grandmother as "mom".
RadarOnline.com learned the heartbreaking details about how the toddler is coping with the dramas associated with her court-enforced custody.
"Leah calls Amber by her name," a source close to the family told RadarOnline.com in an exclusive interview.
Article continues below advertisement
"She recognizes her as Amber, but doesn't call her 'mom'. Leah calls Gary 'daddy.' But she likes her grandma Carol (Gary's mom) and wants to stay with her.
"Sometimes when she sees Gary and Amber she screams like she doesn't want to be with them. There's obvious tension."
At one stage, Leah even identified Portwood on national magazine covers and declared to her grandma Carol: "Look momma, it's Amber!'"
After having Leah temporarily taken away from her last week, Portwood cleaned up her home and on Monday was reunited with her daughter Leah, as RadarOnline.com reported.
It's unclear if Portwood's parental rights were reinstated, but we're told dad Shirley was so emotional about the move to take Leah away, he broke down in tears.
An assessment of Leah's living quarters with Portwood by Indiana child investigators had proved they were unsuitable.
Article continues below advertisement
"But Amber hired someone to clean up her apartment recently and even went out over the weekend to buy a proper baby bed for Leah," a source close to the situation told RadarOnline.com.
"She was trying to get everything up to par at home so that Child Protective Services would deem it a suitable place for Leah and she'd get her back; and it looks like it worked."
RELATED STORIES:
EXCLUSIVE: Teen Mom 'Throws Fit' Because She's Banned From Seeing Baby On Thanksgiving