EXCLUSIVE: Private Investigators Probing Death Of AGT Contestant's Wife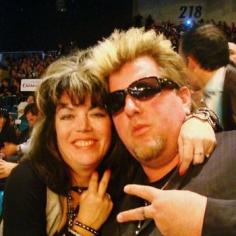 The family of a woman found dead at a Los Angeles hotel -- the wife of a contestant on the talent show America's Got Talent -- has launched its own investigation to find out how she died, RadarOnline.com has learned.
Laura Finley, 48, a guest at the Millennium Biltmore Hotel, was found at the bottom of a stairwell in late October.
Her husband, Joseph, who was scheduled to perform a musical number on the show, reported his wife missing before his audition, but that was several hours after her body had been found.
Article continues below advertisement
Speaking exclusively to RadarOnline.com, Laura's step-mom Elba Sutterlin said: "The family is doing our own investigation and we've been asked to not say anything."
RadarOnline.com has learned the family has hired private investigators in a desperate bid to establish what happened.
Laura vanished after partying and indulging in party drugs with Joseph.
According to the rock singer and guitarist, Laura left the room around 3 a.m., headed for the hotel's ice machine, but never came back.
AUDIO: America's Got Talent Death -- The 911 Call
Finley is being called a "person of interest" in the death, according to cops.
Sutterlin previously told RadarOnline.com Laura's body was moved to the foot of the hotel's stairs, in what she believes was a deliberate decision by the person who "murdered" her.
"Because of the way the stairway has been shown in photos in the media there was no way that the way her body was found with no visible trauma," Sutterlin said.
Article continues below advertisement