Exclusive
EXCLUSIVE INTERVIEW: Kendra & Hank Planning For More Kids, Says Mom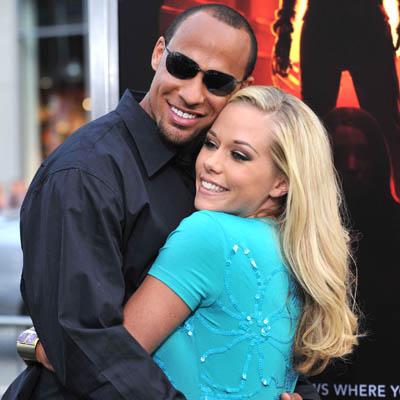 Despite speculation their marriage is on the rocks, Kendra Wilkinson's mother says the reality television couple is solid as a rock and even want more children in the future.
"They will have more kids," Patti Wilkinson told RadarOnline.com in an exclusive interview. "I just don't know when."
And Kendra's move back to Los Angeles with 11-month-old Hank IV may just be the stability the couple needs to see what the future may bring for expanding their family.
Article continues below advertisement
"The marriage is fine and they came to the decision together that they'd be both better off concentrating on his career and she could concentrate on her career here in L.A.," said Patti, who flew to Philadelphia to help her Playboy cover girl daughter move back to sunny Southern California.
"They see each other when they can until football season is over then he's going to move to L.A. and they're going to buy a house and live happily ever after!
"It was the best decision they could have made and it's only a couple of more months before he's out here."
The mutual decision to be bicoastal also comes in part "because there's not much work for her to do in the wintertime in Minnesota," Patti said, with a laugh.
Her son-in-law plays for the Minnesota Vikings.
Wilkinson, 25, and Baskett, 28, tied the knot during a lavish ceremony at the Playboy mansion in July 2009 - just a month after they announced they were expecting. Their first child was born five months later in December.
Article continues below advertisement
"They just figured that for her Kendra's sake it would be better for her in L.A. She would be close to her family, to me and her brother -- and for her jobs that she could be going on would be based out of L.A... It was more for her and so he could concentrate on making plays for Minnesota," Patti said.
Patti also expressed her enthusiasm for having her daughter closer to home.
"I get to see the baby more," she added.