Exclusive
EXCLUSIVE: Jon Gosselin & Girlfriend Say They Were Humiliated At Taco Bell -- Read The Complaint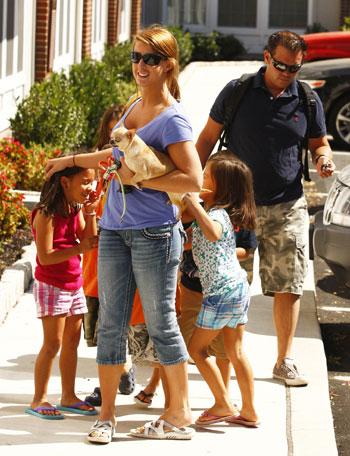 A trip to a Taco Bell restaurant turned into Taco Hell for Jon Gosselin and his girlfriend Ellen Ross after the infamous reality star was recognized at a drive-thru. RadarOnline.com has the complaint filed regarding the incident.
PHOTOS: Jon Gosselin and Girlfriend Spend Time With His Kids
The Jon And Kate Plus 8 star's girlfriend was so outraged at their treatment at the drive-thru of the restaurant in Lemoyne, Pennsylvania, that she made an official complaint demanding that one of the employees concerned –  "the one with the wrap" around her head – be fired.
Article continues below advertisement
On October 18, 2010, one of the servers tried to take a photograph of Gosselin on their cell phone, causing the seemingly publicity shy pair to become increasingly outraged about their treatment.
RadarOnline.com obtained a copy of Ellen Ross' complaint which read:
Customer stated tonight, my boyfriend (Jon Gosselin from the reality show Jon & Kate Plus 8) and I came through to purchase dinner.  When we pulled up to the window there were three girls inside and a man. The three girls noticed who Jon was as his phone rang and he answered (it was his attorney, coincidentally), they proceeded to laugh loudly and talk about him as if he weren't there they said "OMG how funny, that's him OMG, say something to him say something."  Jon put his car window up to avoid them.  Every employee inside was gathered at the window staring and talking loudly about us.  When we put the window back down to get our food, one employee (she had a wrap around her head) pulled out her cell phone and held it up to us to try and take a picture, while laughing at us.  No one did or said anything to stop this.  It was humiliating.  We are sending a certified letter complaining about the manager's lack of professionalism and his obvious lack of control on his staff.  I also want to be put in touch with the owner, and I will go to corporate to file a complaint if this problem is not addressed properly.  I expect it to be resolved immediately since there is no excuse for your employees to make a spectacle out of us for their entertainment when they need to be doing their jobs, so instead they violated our privacy.  I surely hope this employee whom I see frequently (the one with the wrap) can be terminated immediately.  Employees be terminated immediately or we will sue your company for taking pictures of us while we waited for our food.  At this point we had already paid.  I am extremely disgusted by this conduct.  I have been a paying customer for years at this specific location and to your company in general.  I do not deserve to be treated like this.  Jon is a regular guy now, living in the area, and does not try to stick out anymore.  I expect this matter to be taken care of immediately.  I plan to spread the word to my friends, family, and neighbors to not eat at this store, or any others for that matter.
An insider at the restaurant said: "The company that owns the franchise investigated the incident and the staff were reprimanded but nobody lost their job or anything like that.
"The customers concerned seemed to make a big deal about it which can happen when celebrities visit drive-thru restaurants sometimes.
"The company may offer them some free food coupons which often happens in cases like these."
Article continues below advertisement
When RadarOnline.com contacted Ellen Ross she declined to comment on the incident which was first picked-up by thesagewayexpress.blogspot.com which tracks Jon and Kate Gosselin sightings and stories in Pennsylvania.
RadarOnline.com recently revealed how  Ross has started writing a blog which has been gaining increasing popularity although she won't accept any advice on her infamous boyfriend.
The pretty 24-year-old Pennsylvania government worker has been dating Gosselin since this past spring after they met on a blind date. Ross has seemingly hit it off with Jon's kids, and brought a sense of stability to his love life after going through a series of short-term relationships following his well-publicized split with Kate.