Exclusive
EXCLUSIVE: Raising Sextuplets Couple 'Didn't Want To Become Next Jon & Kate'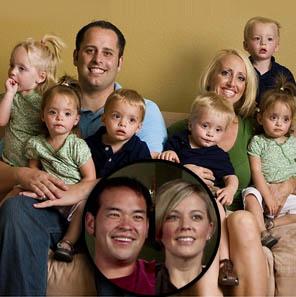 Raising Sextuplets couple Bryan and Jennifer Masche's marriage crumbled because they were terrified that they would become the next Jon and Kate Gosselin, a source close to the couple told RadarOnline.com.
"They didn't want to become the next Jon and Kate Gosselin and this thought really took a toll on their marriage," the source said. "Bryan and Jennifer saw what happened to them and it weighed heavily on their minds because they didn't want their lives to turn into a media circus."
Article continues below advertisement
The couple's six-year marriage imploded after a fight at the Arizona home of Bryan's in-laws, Sue and Robert Simbric, which resulted in his arrest on September 11. Bryan had threatened to "flatten" his father-in-law. Jennifer filed for separation at Yavapi County Superior Court on September 17.
Bryan will be back in court on Thursday, October 7, after being charged with two counts of disorderly conduct for domestic violence, one count of resisting arrest and one count of threatening domestic violence. The couple's children were not inside the home at the time.
EXCLUSIVE PHOTO: The Smiling Mug Shot Of TV's 'Raising Sextuplets' Dad
"Bryan is absolutely devastated about what has happened and he's still going to counseling but at the moment Jennifer doesn't want to go with him," the source added. "It seems that she thinks the grass is greener on the other side right now but Bryan is a good guy despite his arrest.
"In her heart Jennifer must know that because whenever she went on weekend trips away with her girlfriends she had no problems leaving the kids with him. If she really was that fearful of this man would she potentially endanger her six beautiful children?"
Article continues below advertisement
The source believes the couple left Florida and moved back to Arizona, where they originally lived before signing-up for WE tv network's show. They are living separately. Jennifer is also seeking both sole legal custody and primary physical custody of the kids with reasonable visitation for Bryan.
"Bryan has done a lot to try and keep her happy and when they had a choice of locations to film the show it was Jennifer who picked Florida because she wanted a 'living-by-the-beach' lifestyle," the source adds.
"But even that wasn't enough for Jennifer and a lot of people think that she has acted unfairly in filing the separation paperwork without even telling Bryan about it. He is being painted as this monster when that is just not the case and he will go to court this week to answer the charges against him."
AUDIO- Hear The 911 Call On RadarOnline.com
Jennifer is seeking child support but is requesting an order from the court to determine that neither party pay spousal support to the other.
Article continues below advertisement
She is also asking for equitable division of certain joint, community and other property and debt and that each party pay for their own attorney fees.
The source added: "At the moment there are no plans to re-start filming Raising Sextuplets until they figure out what is going to happen with their relationship.
"They have got a lot of footage filmed since the final episode aired but the executives at WE tv want to give both Bryan and Jennifer space right now."