EXCLUSIVE INTERVIEW: Why Kate Middleton Could Be A Better Royal Than Princess Diana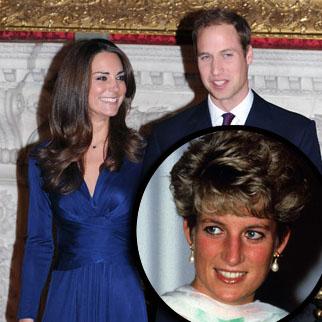 Although Prince William has said fiance Kate Middleton, or anyone else for that matter, is not trying to fill his mother Princess Diana's shoes, royal experts are drawing even more distinctions between the two most important women in the young royal's life. RadarOnline.com spoke to one royal expert whose comparisons show how Kate may surpass even the highest expectations of a princess set forth after Diana.
Article continues below advertisement
"Kate and Diana are very different. They come from totally different backgrounds," Claudia Joseph, author of Kate: Kate Middleton: Princess in Waiting, told RadarOnline.com. "Diana hailed from an enormously privileged, aristocratic, old English family. Kate comes from a family that - as you can see from my book - descends from working class mining stock. In many ways, she had a much more modern upbringing."
The differences in the two women's families don't end there. "Diana's parents were divorced - she was only 20 years old when she got married and a much more fragile and troubled character when she walked down the aisle of St. Paul's," Joseph added. "Kate comes from a much more stable background - she is already eight years older than Diana was when she got married and is, in every sense, more mature, well-grounded and comfortable in her own skin.
Article continues below advertisement
"She may well be as glamorous as Princess Diana but she won't court the press in the same manner. It is highly unlikely we will see pictures of her in the gym or making friends with royal reporters. She will conduct her role in a more conscientious and dignified manner."
Joseph also pointed out that the similarities between Kate and William add to their compatibility as much as Kate's differences from Diana better equip her for public life.
"Prince Charles and Princess Diana also had a considerable age gap- there was 12 years between them, almost a whole generation. Kate and William are the same age. They come from the same generation, were brought up in the same neck of the woods, went to neighboring public schools and the same university," Joseph pointed out. "Her background may not be as blue-blooded as the prince's, but they have an enormous amount in common, both having been brought up in rural surroundings... sharing a love of the countryside is a prerequisite for fitting into the royal family, where hunting, shooting and fishing, watching polo and going to the races are the norm."
Article continues below advertisement
She added that Kate will truly be a modern addition to the royal family: "When Kate becomes Queen Catherine, she will be the first wife of a British monarch to have graduated from university, displayed her lingerie on a catwalk and lived with a king out of wedlock."
Although she did not grow up in aristocracy, Middleton has exhibited an uncanny grace under pressure. "So far Kate has acquitted herself admirably at a range of social functions such as royal weddings and military graduation ceremonies so I am sure she will have the ability to cope with the role," Joseph added. "She is naturally private and discreet and is very dignified in public. You never see her falling out of nightclubs or looking in disarray."
In fact, Middleton has embraced the polish demanded by the highest level of English society. "She is now a sample size eight, has haircuts at celebrity hairdresser Richard Ward and had makeup lessons. She has gained a reputation for her demure behavior and always touches up her makeup in the lavatories before leaving a venue and facing the paparazzi," Joseph pointed out.
"One of her favorite designers is Brazilian Issa...Although her designs are sexy and stylish, they are still demure and are cut to flatter women of all ages, shapes and sizes. She is a hot favorite to design Kate's wedding dress. Certainly I don't expect her to wear a meringue like Princess Diana. I think Kate will wear something more elegant and figure-hugging."
Article continues below advertisement
Joseph predicts that the couple will shy away from a ceremony at St. Paul's Cathedral where Prince Charles and Princess Diana were wed.
"At the moment the smart money is on them getting married at Westminster Abbey, where the Queen married Prince Philip. They have announced they will get married in London and they are unlikely to opt for St Paul's Cathedral. The wedding is expected to be next Spring or Summer and will be a balance between the high-profile occasion of William's parents and the discreet wedding they would both prefer.