Exclusive
EXCLUSIVE INTERVIEW: Teen Mom Amber Portwood 'Shoved Against The Wall' By Gary, Says Her Cousin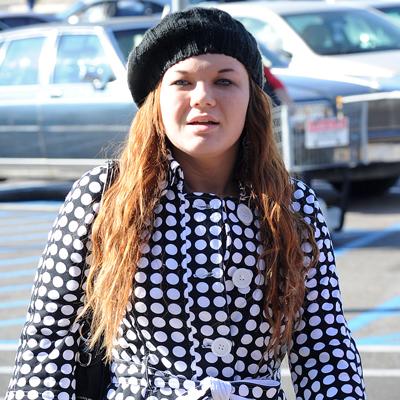 Charged by police with two felonies and a misdemeanor of domestic violence, Teen Mom Amber Portwood is "definitely afraid of going to jail", according to Amber's cousin, who spoke exclusively with RadarOnline.com.
Krystal, who has appeared on the MTV show, dropped a bombshell during our interview, revealing that Gary Shirley shove Amber against a wall and recounting other violent incidents where Shirley attacked Portwood. Gary and Amber have called off their engagement and Amber is facing criminal charges after her violence toward Gary was recorded by cameras rolling for the MTV hit show. But now the scandal has deepened as Krystal reveals exclusively to RadarOnline.com there are other eyewitnesses who saw Gary get physical with Amber.
Article continues below advertisement
"There was a time before she Amber got pregnant where he wasn't the best to her," Krystal told RadarOnline.com exclusively. She even recalls a time when one of Amber's pals pushed Gary over a balcony after he got physical with Amber.
"People are exaggerating the issue of the aired Teen Mom episode and before MTV the roles had been reversed.
"There had been times when Gary laid his hands on her... I remember when he shoved her against the wall and one-time he went over to a friend's house because Amber was over there and their friend Jessica pushed him over the balcony because he laid his hands on Amber.
"He's done it on numerous occasions and Amber would come over to my house because he had laid his hands on her.
"He wasn't abusive to her, but he did lay his hands on her when they got in arguments sometimes... so it's gone both ways."
Krystal, who spoke out in defense of her cousin, was quick to point out that she still "loved Gary", even though she admitted they had their own a "love/hate relationship".
Article continues below advertisement
"Who wouldn't de afraid? She's afraid of the possibility of Leah being taken away and the whole CPS child protective services ordeal."
The 20-year-old has not been arrested yet as police have submitted an affidavit to the prosecutor's office who will make the final determination on the exact charges, according to Mitch Carroll, Public Information Officer for the Anderson Police Department.
Said Krystal, "She's not taking it well. She's not flipping out, but she's worried about what's going to happen.
Article continues below advertisement
"But she's hoping for the best outcome and with everything she's doing now to better herself she feels she's going to get the best outcome.
"She's trying to get her life on track for Leah and herself. She's trying to better herself and she's doing well at it.
"Amber is portrayed as this villain who hits people, but that's not who Amber is. Everyone has episodes and gets p*ssed off. Amber does regret it. But she's fun loving and has a great personality."