Exclusive
EXCLUSIVE INTERVIEW: David Carradine's Ex Wife Supports Quaids; Someone Is Killing Stars!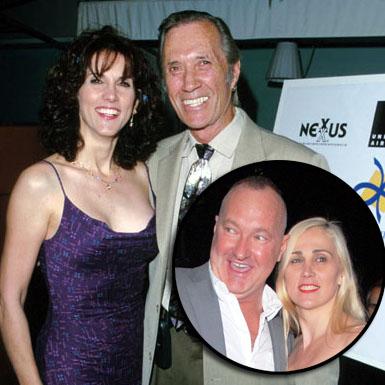 Article continues below advertisement
The 72-year-old actor was found hanged, naked and dead in Bangkok hotel room, last year.
Police believe Carradine died of accidental suffocation after attempting auto erotic asphyxiation –- a sex game where participants derive pleasure from being partially strangled.
But Anderson, who in the past admitted Carradine asked her repeatedly to take part in 'deviant' sex games, told RadarOnline.com she was convinced there was a cover-up surrounding her ex's mysterious death.
"Look, I for one, would like to know what information the Quaids may or may not have concerning David's death or their 'star whacking' theory," Anderson told RadarOnline.com.
During a bizarre interview on Good Morning America, Randy Quaid said he believed that Carradine -- along with several other stars, including Heath Ledger -- "could have been murdered".
Randy, 60, said: "It is very possible that Heath Ledger could have been murdered, and David Carradine."
Article continues below advertisement
Evi suggested "Robert Blake could have been set up" also.
The Quaids' bizarre revelations have put Carradine and several other stars deaths back in the spotlight, even though they would not elaborate on what information they had to base their stunning allegations upon.
"David's last wife is suing the production company on his last movie for a wrongful death suit and maybe investigators should talk to the Quaids too," Anderson told RadarOnline.com.
"Ironically, David Carradine and Dennis Quaid, Randy's brother, knew one another as they had a mutual friend and David was very friendly with Bruce Lee's son Brandon who also died on a film set
"I'm still getting information surround David's death and it is very much still an 'open door' in my opinion.
"I saw his autopsy photographs for myself and there were red marks on his neck which points to force being used."
Article continues below advertisement
The eccentric couple appeared on Good Morning America from Vancouver, Canada, where they discussed their fears in detail over how they'd be "whacked" if they return to Tinsel town.
"We are refugees - I mean that's essentially what it is - Hollywood refugees, seeking to be left alone by the criminals," Evi said.
LONG LOST VIDEO: David Carradine Performs Sexy Duet With Ex-Wife
"I genuinely feel like these people are trying to kill us."
Randy said those against him "follow us, they tag our cell phone they hack their computer," adding that "now with the Internet, a celebrity is fair game" in hopes of pumping up advertising profits.
Randy denied that he and his wife were on drugs or are mentally unstable.
The couple, married since 1989, also claimed that other celebrities may be in danger, including Lindsay Lohan, Britney Spears and Mel Gibson.
Article continues below advertisement
"I think he was slipped a mickey ... to steal his money and ruin him," she claimed.
Anderson will be signing copies of her book at The Grove in Los Angeles on Saturday November 6, 2010, at The Barnes And Noble, between 2pm and 4pm.