Exclusive
EXCLUSIVE INTERVIEW: Christina Aguilera Reeling From Divorce, Not Dating Assistant, Says His Mom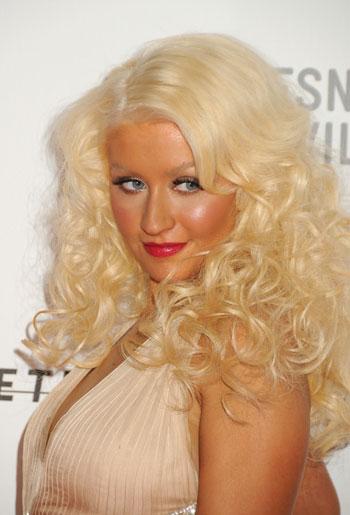 Christina Aguilera is devastated by her divorce and desperate for a man to lean on but she's not dating Matthew Rutler, the man she went out with this weekend. That's what Rutler's mother Kathleen told RadarOnline.com in an exclusive interview.
"I can tell you that they are absolutely not dating," she said, speaking from the family home in New Jersey. "They are friends but nothing more than that.
"Right now Christina needs a shoulder to cry on and an ear to listen to her problems, and that is exactly what Matthew is doing."
Article continues below advertisement
Aguilera is not interested in dating anyone right now but is reeling from her problems and turned to Rutler.
Kathleen Rutler told RadarOnline.com: "He is a wonderful son and a very loyal person, who hates seeing anyone upset. There is no doubt he enjoys Christina's company, as a friend!
"That is what she wants right now, a friend. Matthew has told me she really finds it hard to find anyone genuine to listen to her.
"Despite what it may seem like, she is finding this split very tough."
Christina and Matthew, who was an assistant on her latest movie, Burlesque, were spotted together on Halloween and again on Friday night, when he made a desperate attempt to hide his face while leaving Soho House, in West Hollywood with her. They were with Nicole Richie and Joel Madden and although many are calling it a double date, Rutler's mom says it was not.
Article continues below advertisement
Kathleen says her son was ducking from cameras not because he was trying to hide a romance with Christina but because he was simply afraid of what people would think if they saw them together.
"He isn't into stars and all that Hollywood glamour," she told RadarOnline.com. "When they first met, he called me and said, he was hesitant to be her friend, because of the unwanted attention it might bring.
PHOTO: We Told You So! Sam Ronson Caught Sneaking Out Of Christina Aguilera's House
"He texted me on that night he was photographed with her and said, 'Mom, I think I have a problem.' I thought maybe he had lost his wallet. But he told me it was because he had been seen out with her.
"Christina isn't interested in a new man right now and Matthew certainly isn't ready for a relationship or kids. His band and his work is his focus right now.
"He enjoys her company and is happy to listen to her talk about her son - which she loves to do.
Article continues below advertisement
"Matthew says Christina is a down to earth girl, who just wants to be happy. She wants her son to be happy and feel loved.
EXCLUSIVE: Christina Aguilera Taken To Emergency Room Days Before Split With Husband
"Our family has always been extremely close, looked out for each other and he has been a rock. She is clearly drawn to this and I think its good she has someone like him to confide in.
"She is a beautiful talented girl and I wish her only the best and I know Matthew will be there for her and help her during this difficult time."