PHOTO: We Told You So! Sam Ronson Caught Sneaking Out Of Christina Aguilera's House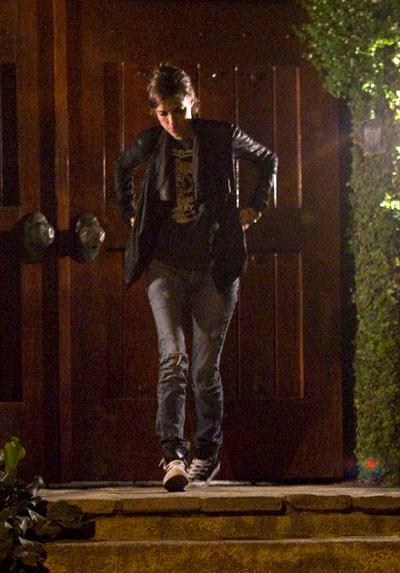 Christina Aguilera has been leaning on gal pal Samantha Ronson for support in the wake of her crumbling marriage and RadarOnline.com has the photo of Ronson's late-night visit to the singer's home.
"They've known each other forever and they're good friends," a source close to Aguilera told RadarOnline.com of her relationship with the famous Hollywood deejay who has been the on-again, off-again girlfriend of Lindsay Lohan.
Article continues below advertisement
According to several sources, Aguilera grew closer to Ronson as her marriage fell apart, eventually leading her soon-to-be-ex-husband Jordan Bratman feeling unwanted.
Ronson was photographed leaving the pop superstar's Beverly Hills home late on the night of October 12, after spending seven hours comforting Aguilera.
"Samantha was also in Mexico with Christina for Nicole's Richie bachelorette party," the source told RadarOnline.com.
A close friend of Christina's downplayed the relationship, "Christina and Sam are good friends and Christina has a ton of gay friends, there's nothing more to it than that."
As RadarOnline.com was first to report, this isn't the first time Christina has turned to a woman. According to a source Christina has approached women while at gay bars in Los Angeles.
One woman who was approached told RadarOnline.com that Christina sent over her bodyguard to see if she was interested. When the woman, who didn't want her name used, looked over, Christina waved and smiled.
Article continues below advertisement
"The bodyguard told me it was an understanding within their marriage and that she brings girls home and Jordan's okay with it," said the woman who was approached by the Dirrty singer while at The Abbey.
"I met Christina in the bathroom and she told me she liked to play with girls... I ended up not pursuing anything with it because the situation just seemed so weird to me, but Christina was definitely looking to hook up."
MORE ON:
Christina Aguilera
Aguilera has been open about her affection for the ladies telling Out magazine in May, "My husband knows that I get into girls. I think it's fun to be open and play."
After nearly five years of marriage Aguilera, 29, filed for divorce on October 14 from her husband Bratman, 33, citing "irreconcilable differences."
DOCUMENTS: Read The Divorce Papers
Aguilera asked for joint legal and physical custody of their two-year-old son Max and for any spousal support to be terminated.
Article continues below advertisement