Exclusive
FIRST PHOTOS: See The Injuries That Sent Christina Aguilera To The Hospital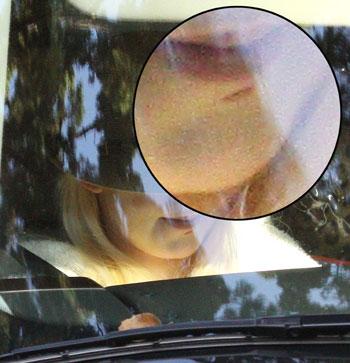 Christina Aguilera made a late-night trip to a Los Angeles hospital in the days leading up to her divorce from husband Jordan Bratman and now RadarOnline.com has the photos showing some of her injuries.
FIRST PHOTOS: See Christina Aguilera's injuries
In the photos the singer is wearing a hat pulled down over her eyes—but clearly visible is a distinct bruise on her right cheek and a cut just below her lip. Her face also looks swollen.
Article continues below advertisement
As RadarOnline.com exclusively reported Thursday, Augilera was taken by Bratman to Cedars-Sinai Medical Center emergency room on October 12, just days before they announced their split.
An eyewitness said the singer was sporting "bumps and red bruises" along with a bloodied lip.
Much of Christina's damage was on inside of her mouth, which is not visible in these photos. But the cut under her lip is clear and days later she used makeup to cover it up.
"Christina was bleeding from her mouth and had a bit of a busted lip. Jordan told the nurses she had falled down," the source told RadarOnline.com. "Shortly after they arrived to Cedars, Christina's private surgeon arrived to put a few stitches on her lip.
Aguilera's rep had no comment when contacted by RadarOnline.com.
The 29-year-old superstar asked for joint legal and physical custody of their two-year-old son Max and for any spousal support to be terminated.
Article continues below advertisement
As RadarOnline.com previously reported, the couple had an open marriage that, according to one source, led to jealousy within their relationship.
"My understanding was that Jordan wasn't involved when she Christina brought girls home," the source told RadarOnline.com.
Since her breakup, the Beautiful singer has been leaning on close friends like Samantha Ronson for emotional support.
Christina and Sam grew closer as her marriage crumbled.