Exclusive
EXCLUSIVE: Fantasia's 12-Hour Settlement Talk With Boyfriend's Wife Unsuccessful; Lawsuit Imminent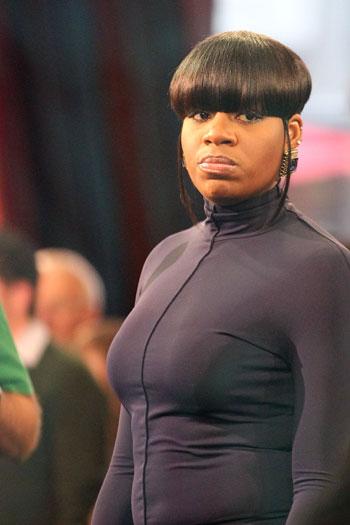 American Idol winner Fantasia Barrino met with her boyfriend's scorned wife, Paula Cook, earlier this month in an attempt to keep the details of Barrino's alleged affair with Antwaun Cook private and out of the Mecklenburg County courthouse, RadarOnline.com has exclusively learned.
A source close to the situation says the two women attempted to settle their dispute through private mediation but the ladies were unable to reach a settlement, propelling Cook to move forward with a civil lawsuit against the singer.
Article continues below advertisement
"Fantasia and Paula were in mediation for nearly 12 hours on November 1," a source close to the situation told RadarOnline.com.
"They didn't settle because Fantasia refuses to acknowledge that she was aware of Paula's marriage to Antwaun when she started dating him, and Paula is adamant that she knew."
Fantasia became the center of a celebrity cheating scandal last year when she famously got the name "Cook" tattooed on her collarbone in honor of her boyfriend Antwaun Cook – a married man.
According to the source, Fantasia and Paula are set to meet in a North Carolina courthouse again on November 22.
"Fantasia was prepared to pay Paula as much as $100,000 to settle during their mediation, but it fell through," another source told RadarOnline.com.
"Paula plans on going all the way and is going to sue Fantasia for Alienation of Affection."
Alienation of Affection is a law still recognized by only seven states – one of which is North Carolina – where an abandoned spouse can file lawsuit against the party responsible for the failure of their marriage, typically the adulterous spouse's lover.
Article continues below advertisement
Paula has filed for divorce from her philandering husband, who is still dating Fantasia.
As RadarOnline.com previously reported, Fantasia attempted to kill herself in August by overdosing on aspirin after reading a court complaint filed by Paula naming her as a homewrecker.
"It just became heavy for me, so I just wanted to be away from the noise," the 26-year-old said in a televised interview.
"I was just overloaded, for six years I've been carrying so much... I always take a lickin' and keep on tickin.'"