EXCLUSIVE: Charlie Sheen's Porn Star: 'I've Lost Touch With God'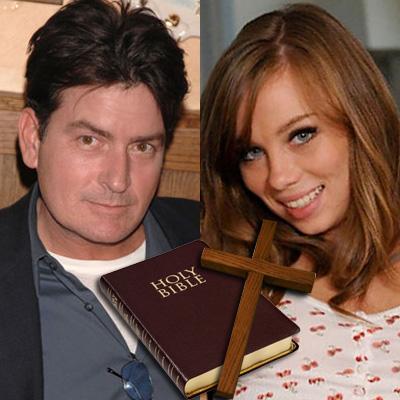 The porn star Charlie Sheen trapped inside a hotel bathroom confessed to her on-and-off-screen former lover that she had lost God in the days before her cocaine fuelled romp with the Hollywood superstar, RadarOnline.com has exclusively learned.
What's more, Christina Walsh, aka Capri Anderson, has a history of drug abuse - including cocaine and smoking marijuana - that led her parents to enroll her in the Christian camp Teen Challenge.
Article continues below advertisement
Speaking exclusively to RadarOnline.com, Walsh's ex-boyfriend Micah Mayell revealed how he spoke to the 22-year-old a week before her sex-for-money romp with the Two and a Half Men star that sparked a meltdown at New York's The Plaza Hotel.
He said Walsh admitted: "I've lost touch with God."
"She had a heavy conscience about her new life in New York, where she had only recently moved to," Mayell told RadarOnline.com.
"She was being very vague... but said she had some spiritual issues that were starting to arise as a result of the new 'compromises' that she was making in her life.
"I asked her why she was feeling guilty and she said, 'I'm just trying to figure things out in my life.'
"When I saw the story, it all came together.
"I believe Christina had turned to escorting, after dabbling for years in the porn trade.
Article continues below advertisement
"That's why she called me, that's why her conscience was heavy, and why she needed to talk to me."
During Walsh's tryst with Sheen, the porn princess became frightened and felt "threatened" and called hotel security, while naked and cowering in the bathroom.
When police arrived, they discovered Sheen, 45, was highly intoxicated; he was taken to the hospital and placed under a mental health check.
Mayell first met Walsh while in Florida in 2008. The pair dated for 12 months before splitting up, however, they remained close pals.
As we revealed, the bad-boy Hollywood star promised Walsh, who markets herself as daddy's little girl, a whopping $12,000 for sex.
But when Sheen couldn't find his $170,000 watch, he flipped into a rage and rampaged the hotel suite, causing $7000 in damage.
When asked if he believed Walsh would have stolen the Patek Philippe Chronograph Perpetual Calendar 5970P -- encrusted with diamonds -- Mayell said: "She is not a thief, but one's values can be compromised when you have indulged in drug use."
Article continues below advertisement
Mayell admitted Walsh used cocaine - "in moderation", he said - but smoked pot each day, as a self soothing medication.
"The only drug she was addicted to was marijuana, which she did every day because she needed it to make her chill," he said.
Painting a picture of a "conflicted" soul, Mayell revealed how his ex-lover grappled with her on-screen persona and who she was, away from the cameras in the bedroom.
"Christina Walsh cares about people, she does not steal from people, she values relationships and believes in karma," he said.
"But because of her alter ego Capri Anderson, Christina takes on this whole other persona, which could potentially compromise her values and morals that she has, as Christina Walsh."
So much so, Mayell said Christina - who has starred in several adult films including Big Bust Cougars, Virgins of the Screen 6 and Barely 18: Spring Break - insisted on only lesbian love scenes because she viewed it as not cheating on him.
Article continues below advertisement
She would be paid anywhere from $800 to $1400 per shoot.
She would also only film XXX video with him and once resisted having a three-some, off screen, with another woman, because she insisted on "monogamy".
"Christina began doing girl-on-girl porn when she was 18," he said.
Off-camera, the video vixen's life was clearly troubled, the ex-lover said.
He said: "We broke up in January and in June, she called me and said she wanted to get back together with me and would quit porn all together.
"She has a beautiful spirit, but because of her work and the way she's been hardened, the perception is that she's a hardcore b*tch."
Mayell said he had sent text messages to Walsh since the scandal exploded, but that she wouldn't go into details, "because her lawyers have told her she can't" -- as she considers a potential legal suit against Sheen.
RELATED STORIES:
EXCLUSIVE: Charlie Sheen Reneged On Divorce Deal To Divert Focus From Porn Star Scandal