Exclusive
EXCLUSIVE: Charlie Sheen Challenged To Take Drug Test; Kids Trick Or Treat Without Him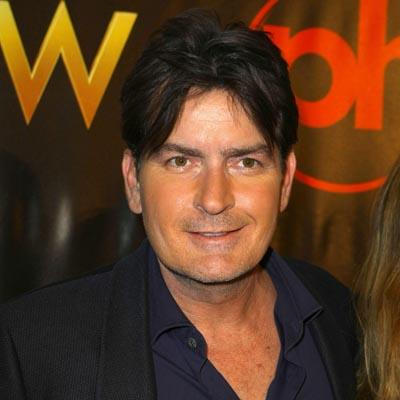 After days of a new rampage with hookers and cocaine, Charlie Sheen was nowhere to be found while his daughters went trick-or-treating with their mother, RadarOnline.com is reporting exclusively.
Two eyewitnesses told RadarOnline.com: "Charlie's daughters were trick-or-treating with their mom, Denise Richards, in Malibu Colony on Sunday. The girls were dressed up. And Charlie was nowhere to be seen."
Article continues below advertisement
RadarOnline.com reported exclusively this weekend that Charlie went on a new drug rampage, after returning from New York, where he was hospitalized after using massive amounts of cocaine.
Team Sheen is in full spin-control mode. Last week, Charlie's rep Stan Rosenfeld laughably told the press that Charlie's hospitalization was due to an "allergic reaction." Multiple sources confirmed to RadarOnline.com that Charlie had been snorting and smoking cocaine. The New York Post reported that Charlie told police he had been doing cocaine.
Now Team Sheen is claiming Charlie is just fine! His manager, Mark Burg released an email calling the truth about Charlie's renewed drug use "lies" and "bullsh*t." He said he saw Charlie on Sunday.
Note to Burg: you should have seen him a day or two earlier!
And to prove that Burg, Rosenfeld and the rest of Team Sheen is merely covering up the truth RadarOnline.com has issued this challenge to them: have Charlie take a drug test. If Charlie takes a mutually-agreed upon drug test with a mutually-agreed upon supervisor, RadarOnline.com will run the results no matter what they are.
Article continues below advertisement
Meanwhile, Sheen's daughters with Richards were spotted in the late afternoon, early evening going door to door and getting candy.
As for Charlie? Another source told RadarOnline.com that candy was being handed out at his house.
Team Sheen apparently may have another huge problem on its hands, as they try to keep the Two and a Half Men star in shape so everyone around him can get paid.
Rob Shuter of AOL's PopEater reports that Team Sheen is terrified a tape exists of Charlie's coked-out New York adventure.
Shuter reports that Sheen's enablers are doing "everything they possibly can to make sure it never sees the light."
Shuter also writes that a source close to Charlie told him: "The reason everyone is so concerned about Charlie's phone is it contains text messages, phone numbers and could even contain damaging video and audio." According to Shuter, tape of Charlie shouting the 'N' word could cause CBS to take action.