Exclusive
VIDEO: Denise Richards: 'I Was At The Hospital With Charlie'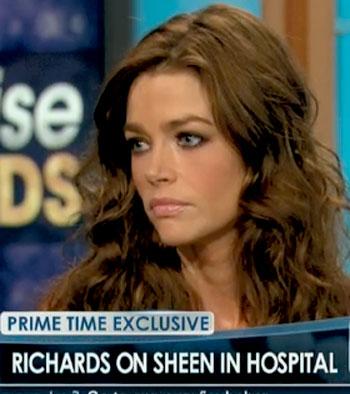 Denise Richards has revealed she was at the hospital when her ex-husband Charlie Sheen was placed under psychiatric evaluation.
Speaking to Joy Behar on CNN, the mother of the Hollywood actor's two children said she helped her one-time lover after he flew into a drug-riddled rage when he thought his wallet had been stolen by a hooker whom he was partying with.
"I do know what happened and I did help him at the hospital," Richards said.
Article continues below advertisement
Watch the video on RadarOnline.com.
"My daughters are five and six years old. They're at an age where they can start to understand. They have no idea what went on."
The couple has two children, Sam, 6 and Lola, 5.
Richards, who was in New York with Sheen and the children, was clearly uncomfortable about the topic and hesitant to reveal too much about the incident.
When asked how the actor was doing, Richards replied: "Maybe I'll let you ask Charlie."
The Wild Things star said she and Sheen had been getting along great and were "in an amazing place".
"We've been getting along great for the last year and a half and I'm trying to protect the girls from it as much as possible," she said.
NEW DETAILS: Charlie Sheen Took Hooker On Date -- With Ex-Wife Denise Richards!
But Richards said Charlie is a good father.
"He comes over for dinner, he goes to birthday parties," she said.