Randy And Evi Quaid Remain In Canada Pending Bond And Promise To Appear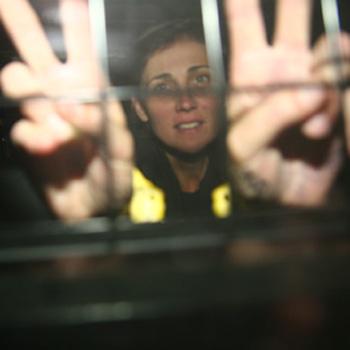 It looks like Randy and Evi Quaid will be spending some time in Canada following their detention Thursday, and if the couple can come up with the money - it won't be in jail!
The actor and his wife appeared at a immigration hearing in Vancouver on Friday seeking refugee status because they claim they are being targeted by "Hollywood star whackers" in the United States.
Article continues below advertisement
During a break in the proceedings, the Quaids' lawyer read a single-sentence statement from the couple to the media: "We are requesting asylum from Hollywood star whackers," he read, declining to comment further on the mental state of his clients.
At the conclusion of the hearing, the Quaids were ordered released from custody, but must each post a $10,000 bond on a promise to appear for their next hearing October 28.
The Quaids promised they would appear with Evi adding she'd be willing to wear an ankle bracelet while staying at a posh Vancouver hotel.
"I love Canada," Randy Quaid told the adjudicator.
"It's been a very welcoming nation to me. I would not do anything to besmirch my reputation."
Vancouver police say they detained the couple after responding to a call for assistance and a check revealed the pair are wanted on outstanding U.S. warrants.
Article continues below advertisement
Randy said he believed the US warrants were issued by mistake and had been withdrawn and that they didn't travel north in an effort to skip out on them.
Randy And Evi Quaid Arrested Again
Evi said she believed the warrants were a setup and her continued detention in Canada could seriously endanger her health. She said a jail nurse has told her that her blood pressure is dangerously high from the stress.
Although the Quaids are not wanted for any crimes in Canada, they were taken into custody by the Canada Border Services Agency on Thursday afternoon.
Friday's hearing was mandatory to determine if their detention should continue with authorities arguing the Quaids posed a flight risk and should remain jailed
But Randy Quaid, 60, said he and his wife came to Canada because he was being given an award by a film critics group, adding the couple was considering moving to Vancouver where Randy planned to restart his career.
Article continues below advertisement
EXCLUSIVE DOCUMENTS: Homeowner Slaps Randy Quaid & Squatting Spouse With Restraining Order – Read The Documents
But the couple have a dilemma to face - Randy and Evi Quaid are both due in a Santa Barbara, CA court on October 26 - two days before their Canadian court appearance - to address their various charges and their failure to appear at the last hearing.
As RadarOnline.com previously reported, the Quaids' bail was increased Friday at the request of the Santa Barbara district attorney's office to $500,000 after the couple failed to show for their hearing on Monday.