PHOTOS: Dog Day Afternoon - Randy & Evi Quaid Reunite With Doji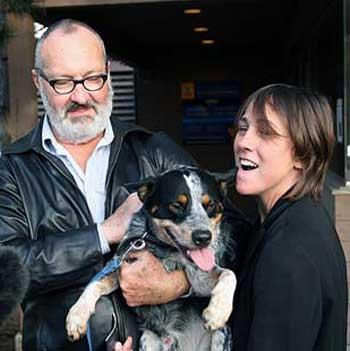 Following their release from a Canadian detention center, Randy and Evi Quaid were snapped Wednesday afternoon picking up their dog from a Vancouver, Canada pound after appearing at an immigration hearing in the area.
Their release from a custody followed a bizarre hearing in which the couple requested refugee status in the Great White North, claiming "Hollywood star whackers" were out to get them. Randy posted a $10,000 bond, while Evi did not have to produce a bond after authorities from Canada's Border Services Agency declared her a citizen of Canada, after it was revealed that her father was born there.
Article continues below advertisement
"The Canada Border Services Agency can confirm that it has withdrawn a request for an admissibility hearing for Mrs. Quaid as she is a prima facie Canadian Citizen," the agency confirmed to RadarOnline.com Wednesday.
The couple was arrested a week ago shopping in Vancouver, in connection with a warrant tied to charges they face in Southern California. Their dog was taken to the pound when they were arrested.
The Quaids were scheduled to appear last week in a Santa Barbara courtroom on felony vandalism charges relating to their arrest for illegal squatting, but were a "no-show" at the hearing.
Their failure to appear prompted a judge to issue $50,000 warrants for their arrest which were later increased to $500,000.00 at the request of the Santa Barbara District Attorney's office.
"The couple posted the $500,000.00 bail Wednesday, securing their appearance in court on November 2.