PHOTOS: The Best, Worst And Wackiest Fashions Of The Weekend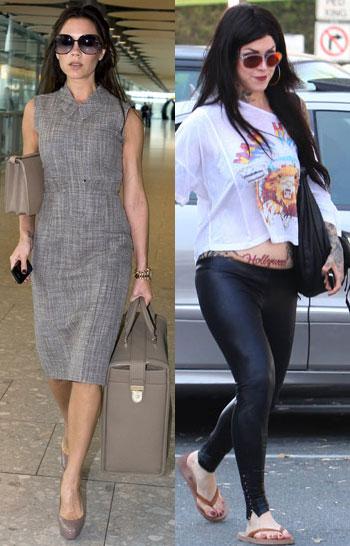 From the London runway (of the airport, that is) to the streets of Los Angeles, stars experienced highs and lows over the weekend when it came down to their wardrobe choices and RadarOnline.com has all the fashionable photos!
Victoria Beckham is no stranger to scandal, so the former Spice Girl knows that the best way to get through a tough time, is to look fabulous! David's Posh wife held her head up high in her own high fashion, while strutting through the London airport, pairing a dress from her latest collection with not an Hermes bag (shocking!) but two bags from her new handbag collection. Does this mean she will retire her impressive collection of beyond expensive Birkins?
Article continues below advertisement
Speaking of scandal, Kat Von D stepped out with Sandra Bullock's ex-cheating hubby, showing off all of her beloved tattoos in a crop top and latex leggings. The inked star needs to realize that her look -- and her beau -- are so last season!
Sizzling young stars hit Teen Vogue's Young Hollywood Event in the fiercest of fashion. While Nikki Reed dazzled in a Michael Kors shift dress and Kelly Osbourne looked strikingly skinny in a Zac Posen frock, our favorite ensemble came from Lauren Conrad, who paired an army green blouse with figure flattering high waisted shorts, defining the term "simply chic."