PHOTOS: Angelina Jolie Goes To Work Despite Bosnia Controversy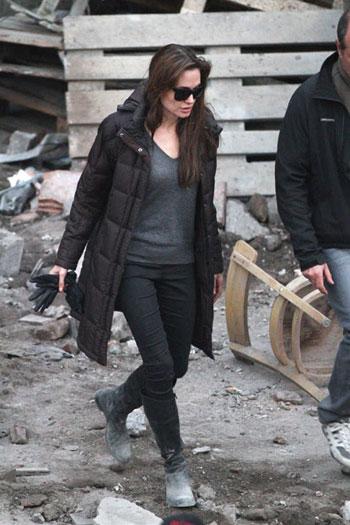 It was business as usual on Thursday for Angelina Jolie despite the ongoing controversy surrounding her directorial debut.
The actress was spotted on the Budapest set of her untitled film which centers on a love story set during the Bosnian-Serbian war.
On Thursday news broke that Bosnian Culture Minister Gavrilo Grahovac revoked a permit for Jolie to film in the country. His decision came after meeting with the local Women Victims of War Association which had problems with the story line of a Serbian soldier falling for a Muslim woman.
Article continues below advertisement
He added that his decision could be reversed if the production sent them a revised story "different" from what they "have been told by people who read it." Grahovac says the filming permit application had no screenplay attached which is required procedure. The production has since sent a script to Grahovac.
RELATED STORIES:
VIDEO: The Tourist Trailer - Johnny Depp Kisses Angelina Jolie!