NEW PHOTOS & DETAILS: Katy Perry's Wild Wedding Weekend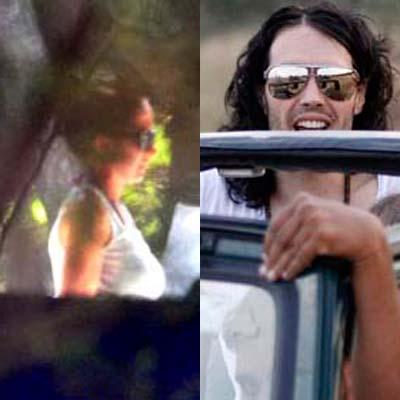 Pop singer Katy Perry and comic Russell Brand spared no expense on their nuptials, as the young, hot entertainers put on, literally, a storybook wedding at the Aman-i-Khas resort in India this past weekend, and RadarOnline.com has all new photos and details for you.
Perry, 25, made a few costume changes on her big day, starting off in a blue sari. Later on in the event, according to People, Perry was seen in a dove gray Elie Saab haute couture dress with lace sleeves.
Article continues below advertisement
As RadarOnline.com previously reported, music from Indian instruments and the tones of traditional Rajasthani folk singers could be heard from inside the colorfully-decorated venue, along with sacred Vedic chanting and the occasional burst of applause from guests. Indian supermodel Jesse Randhawa danced a routine with her husband, renowned choreographer Sandhip Soparrkar.
Animals played a key role in all aspects of the wedding, as elephants and horses were prominently featured in the ceremony. Perry reportedly bought Brand a baby elephant for their union, while one of Brand's more expensive gifts to Perry was a female Bengal tiger named Machli, Daily Mail reported, though the animal would continue living in Ranthambhore National Park, and Brand's money would be put toward the park's wildlife fund.
A hint of danger came, as well, according to UK Daily Mail, when a man-eating tiger -- that had reportedly killed three people in its' past -- tried to gatecrash the loud, lit-up shindig, getting as close as 50 feet from Brand, Perry and their guests before guards turned it away.
The pair began dating a year and a month ago, and decided to tie the knot on New Year's day while vacationing in Jaipur, India.
Article continues below advertisement
Brand told New Yorker magazine that the couple planned to keep the affair small and intimate in spite of their great fame.
"Really, love between two people is the most spectacular and ordinary thing in the world," he said. "I want to make our wedding just about me and her loving each other and we're getting married in front of our friends and family and keeping it normal. So it ain't selling the pictures, ain't doing no pre-nup."
Surprisingly absent was one of Perry's best show biz pals, Rihanna, who was tied up with with work commitments and could not attend.
The Get Him To The Greek star, 35, and I Kissed A Girl singer said in a statement from their rep they were "overjoyed to confirm that they were pronounced Mr. and Mrs. Brand on Saturday, October 23.
"The very private and spiritual ceremony, attended by the couples' closest family and friends was performed by a Christian minister and longtime friend of the Hudson Family," the couple said, according to the statement. "The backdrop was the inspirational and majestic countryside of Northern India."