Katy Perry And Russell Brand Tie The Knot!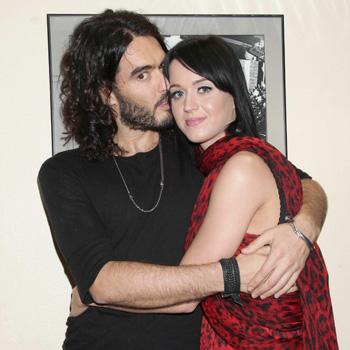 Congratulations to Mr. and Mrs. Russell Brand!
In the presence of friends and family, Katy Perry and Russell Brand exchanged vows Saturday in a traditional Hindu ceremony at the Aman-i-Khas resort in India.
Perry, 25, and Brand, 35, are now officially man and wife.
A rep for the couple released the following statement: "Russell Brand and Katy Perry are overjoyed to confirm that they were pronounced Mr. and Mrs. Brand on Saturday, October 23. The very private and spiritual ceremony, attended by the couples' closest family and friends was performed by a Christian minister and longtime friend of the Hudson Family. The backdrop was the inspirational and majestic countryside of Northern India."
Article continues below advertisement
The sound of Indian instruments and the singing of traditional Rajasthani folk musicians could be heard from inside the venue where the couple was married, along with some sacred Vedic chanting and the occasional burst of applause and cheering by the guests. The wedding took place at Rambagh Palace in northwest India in the middle of a wildlife preserve.
The wedding venue was lit by colorful lights and garlands of flowers decorated tents.
The couple hired extensive security to keep paparazzi away. ABC news reports Brand and Perry have sold their wedding photos to a London-based publication.
According to the People.com, two elephants named Laxmi and Mala arrived at the resort and as the animals walked into the venue, a red carpet was rolled out for them.
In a traditional Indian wedding procession, known as the "Bharat," the bridegroom walks to the spot where the bride awaits. The bridegroom is often on a white horse, but an elephant is considered an even grander, more magnificent mode of transportation.
Article continues below advertisement
India holds a special place in hearts of the couple.
The "I Kissed A Girl" singer and "Forgetting Sarah Marshall" star have been dating since September 2009, with Russell proposing on New Year's day 2010 while on holiday in Jaipur, India.
Brand and Perry put on a five-day celebration, with guests attending a Bollywood-theme party on Friday night.
Perry was married in a Elie Saab haute couture dress, according to Us magazine, which said the dress was dove gray with lace sleeves.